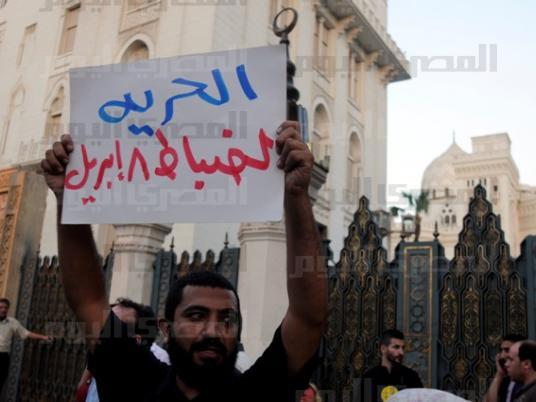 Detained military officer Mohamed Tareq al-Wadie will not be released as part of President Mohamed Morsy's amnesty for revolution detainees, as the decision does not apply to the officers arrested on 8 April last year, his mother, Sana Saad, said Monday.
Wadie had been detained along with other members of the military for taking part in pro-democracy protests in April 2011. Activists have since then urged military authorities to set them free.
Wadie's mother told Al-Masry Al-Youm that the officer told her, "The matter is in the hands of the defense minister. When he feels like it, he will release your son."
She then accused the minister, Colonel General Abdel Fattah al-Sisi, of being behind everything that has happened to her son, including abuse and harassment.
Saad said she had sent a letter to Morsy Saturday evening detailing the abuse that her son is facing. In the letter, she added that the Defense Ministry was trying to satisfy former Defense Minister Hussein Tantawi, who opposed Wadie's release before his retirement.
Saad also said Wadie had stayed at Maadi Hospital for a month for psychological rehabilitation, and that he had been expected to be released like his colleagues, but he was treated differently from them.
Saad remains on hunger strike until her son is released, and she said she plans on sending a fax to presidency spokesperson Yasser Ali within a few days if Morsy does not respond to her letter.
Mohamed al-Rayes, a lawyer representing the detained officers, said Saad's conversation confirms that the defense minister is the one who has the power to release them, not the military court, in accordance to Article 99 of military law.
"If President Morsy intends to release all those who participated in the revolution, he [should] quickly intervene to find a solution to the problem of the [detained military] officers," Rayes said.
Edited translation from Al-Masry Al-Youm