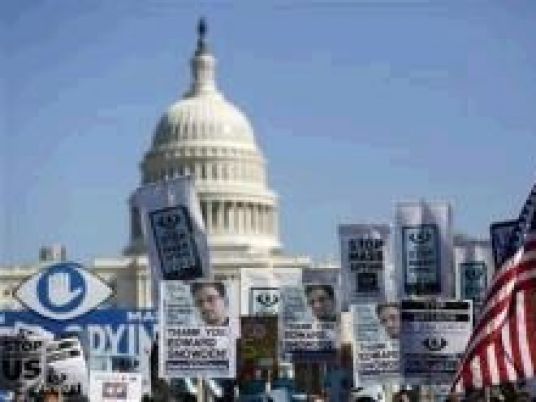 Sherif Khaled, managing director of Falcon security company, says he has received death threats from some people in Egypt, Qatar, Turkey and Morocco after discovering that someone published his information and phone numbers on social media platforms.
In an interview with Al-Masry Al-Youm, Khaled denied regretting involvement in securing the universities, saying "I did not and will not regret this. I feel that we took the correct decision. Incidents that occurred in the first week were exceptional and individual."
He pointed to the company's long history with security pivotal establishments at hard times. "For example, we secured banks during incidents that occurred during January revolution," he said.
Regarding violence by students on university campuses, Khaled said that it wasn't expected especially the destroying of electronic gates, which are owned by the universities not the company, as 99.9 percent of the students are committed to rules. The majority doesn't want to repeat the same scenario of violence that took place last year, he argued, but rather a small minority that wants to ruin the future for the rest.
"We expected some hostile actions. The surprise was in the violence against gates. It seemed to be planned by those who wanted to get banned items into campus. I was also surprised by the fierce attack in media, including Al-Masry Al-Youm, against the company. Actually, it's the callers of violence and riots who failed to get the banned items to campus. Despite all the measures, we noticed shortcomings about walls of the universities and we warned university presidents about them," he said.
About Falcon, Khaled said, "it is a pure Egyptian company that was founded in 2006. The main shareholder is famous private bank in Egypt. We have 10,000 employees. All rumors over shares owned by political or sovereign agencies are untrue. None of the shareholders are famous businessmen."
He also added that law prevents security companies that have foreign shares from possessing weapons. "We have these licences."
Khaled also denied news over his prior work at sovereign authority. "I started my career as an employee at a private bank. I got promotions until I became general manager of public relations and security. When the bank decided to establish Falcon, it was normal that I take charge of the company."
"When the company was first established, we relied on security personnel of the bank. We did not have any generals or others of previous security experience. We then started getting some of such expertise as the company's work expanded. In all cases, getting advantage of security experts in security companies is normal."
He also denied getting involved within political issues. "Egyptian law prevents privately-owned security companies from investigating or arresting anyone," he said.
Regarding the background of securing the universities, Khaled said, "One month before the new academic year started, the Higher Education Ministry demanded from the company a review of its previous work. It's definite that we were selected to secure universities as a result of our previous experience in securing privately-owned institutes three years ago, in addition to experience of our security elements," Khaled said. "Meetings then started between us and the ministry two weeks before the new scholar year to draw detailed plans over securing 12 universities. The agreement stipulated presence of Falcon security elements at the gates to check the students' identities, prevent access of banned items and weapons."
Khaled added that the company elements are not armed and that they do not intervene within protests on campuses.
Asked about the financial profit gained from security the universities, Khaled said, "Cairo University President Gaber Nassar said in press remarks that LE50 million was spent last year to secure the university. Falcon will not get one quarter of that amount to secure the 12 universities, which are like any other agent."
Concerning measures taken against students possessing edged weapons or banned items, Khaled said, "We do nothing more than call the administrative security, which hands the items to police, or we file reports against these students."
Regarding the crisis that erupted during the first week of the new year between Falcon and the administrative security elements, Khaled said, "We found out that the administrative elements did not have cards to access the university. It was agreed then with university presidents to get them cards or submitting detailed documents with their names to ease their access."
"Falcon secures over 3,000 establishment in Egypt," Khaled said, adding that real competition is between five security companies out of 1000 companies working in Egypt. "Our market share is growing, reaching 57 percent up till now."
Khaled denied rumors over previously-securing the Muslim Brotherhood's Freedom and Justice Party saying, "The company does not have any political affiliations. We have not secured parties headquarters or partisan figures before." He also denied securing the formerly ruling National Democratic Party before January revolution."
Edited translation from Al-Masry Al-Youm