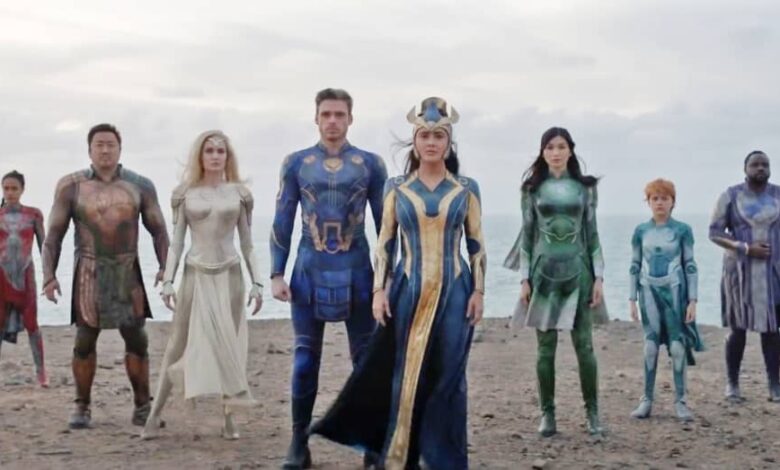 Disney is looking into the release of a new, revised version of the "Eternals" movie, after a number of Arab countries banned it in cinemas due to a gay kiss scene between the two heroes of the movie.
Initially the film's producer and director had refused to make any modifications to the original version.
A report issued by "The Week" revealed that Disney studies releasing a version without intimate scenes, for fear of losing the Middle East market, after the local censors in Saudi Arabia, Kuwait and Qatar refused to show it.
On November 11, the company distributing the film in the Middle East had announced the release of the film in a number of Arab countries, but the censors objected to a kiss scene between two gay actors in the film, demanding that Disney make modifications to accommodate with its criteria.
The film's director Chloé Zhao previously made it clear that she refused to make any modifications to her film to satisfy the censorship, saying: "I don't know all the details, but I do believe discussions were had and there's a big desire from Marvel and myself — we talked about this — to not change the cut of the movie. Fingers crossed."
The Eternals, which started commercial ads in cinemas around the world including the US, stars Angelina Jolie, Kumail Nanjiani, Lauren Ridloff, Don Lee, Lia McHugh, Salma Hayek, Richard Madden, Gemma Chan, and Liah McHugh.
The distribution companies set the date for showing the movie in Egypt, on Wednesday, five days after its commercial release in the US. 
But the filmmakers refusal to introduce modifications may threaten its presentation in Egyptian cinemas as well.
As a result, if no changes are made, the film which includes the first gay superhero in the "Marvel" world, will not be shown in cinemas in Saudi Arabia, Qatar and Kuwait, which was scheduled for November 11 due to excessive "sexual overtones", according to Variety magazine.