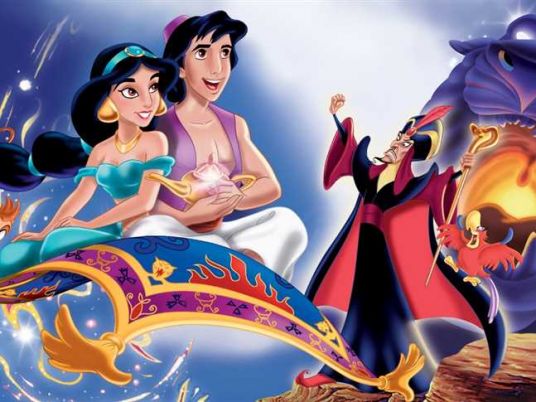 Walt Disney World company, known as Disney, has decided to seek the stars of the new Aladdin film in the Middle East, specifically in Abu Dhabi, through the media production company Pyramedia.
Pyramedia will choose Arab talents to play the main roles in what it to be of one of the most anticipated movies of Disney and Hollywood, directed by Guy Ritchie and distributed by Walt Disney Animation Studios.
Pyramedia, which specializes in media consultancy and production, and its subsidiary Pirastars in Abu Dhabi, will perform talent tests for Arab contestants for the roles of the two main characters in Aladdin's story Aladdin and Princess Jasmine.
Nashwa al-Ruwainy, CEO of Pyramedia Group, has been selected as a consultant for choosing candidates. She was also a consultant who chose candidates for roles in a number of other Hollywood films, such as The Kingdom of Paradise, Syriana and The Pirates of the Caribbean.
"Despite my previous experiences, both individually and at the level of the Pyramedia Group, in selecting and assigning roles to actors from the Arab region in international cinema movies, Aladdin will be special, as it is associated with our childhood memories," Ruwainy said.
Although these characters have been depicted in various Disney works of art before, this film will be different because it is not animated and will have live characters, she added.
The movie is part of Disney Group's plan to convert some of its animation films to live ones, like Beauty and the Beast, which was recently adapted into a live-action film that has earned so far over $786 million in a very short period of time, Ruwainy mentioned.
Ruwainy said that the performance tests will be on the two main roles only: Aladdin and Jasmine. Contestants should be from any Arab country, between 18 and 25 years old and need to enjoy singing and dancing talents.
The tests will be held at the headquarters of Pyramedia in the Free Media Zone in Abu Dhabi over two weeks, she said.
The Arab countries have many talents, and this represents a great opportunity for young actors in the Middle East to take part in one of Disney's most important films, Ruwainy said; adding that she is delighted to participate in this project, which will contribute to the discovery of new Arab talents and in presenting them to the world.
Walt Disney company was founded on October 16, 1923 by the Walt Disney Brothers as an animation studio. It is now considered one of the largest film studios, both in Hollywood and in the world. Pyramedia Group is one of the largest Media production companies in the Middle East, and has provided consultancy on several Hollywood productions, including Kingdom of Heaven, Syriana and Pirates of the Caribbean, among others.
Edited translation from Al-Masry Al-Youm