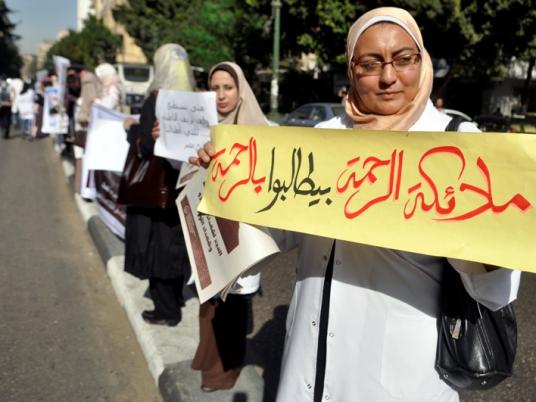 The doctors' strike has been suspended until March 2013, the general assembly of the Doctors Syndicate decided in an emergency meeting on Friday.
Doctors began striking on 1 October to demand increasing the budget for the Health Ministry, reviewing the administrative and financial conditions of the health sector and providing better security for hospitals.
The general assembly's meeting was beset by feuds between Muslim Brotherhood members and others.
Brothers dominated the conference hall at the Faculty of Medicine on Qasr al-Aini, performing both noon and afternoon prayers to prevent opposing members from "spoiling" the meeting.
They formed an organization committee to surround the speaker's podium in anticipation of fighting breaking out. The meeting began early Friday morning with the doctors standing for a minute of silence to honor the victims of the 25 January revolution, then recited the physicians' oath.
Independent doctors accused the Brotherhood and the syndicate board of causing their strike to fail. The Brothers responded by calling for the committee that organized the strike to be interrogated, accusing it of "politicizing" the strike.
They also demanded that psychiatrist Manal Omar, who accused President Mohamed Morsy of being mentally ill, be interrogated. Omar was referred to the Doctor Syndicate's board of ethics as a prelude to being fired for insulting Morsy.
"The homeland, the citizen and the profession need intensive care, and we cannot favor any one of them over the other," Freedom and Justice Party leader and Doctors Syndicate general assembly member Helmy al-Gazar said. He also demanded the suspension of the strike and the interrogation of the strike committee.
Strike committee member Mona Mina said 150 doctors submitted a request to the Doctors Syndicate to discuss the strike in a general assembly. She criticized the board for referring the strike committee to interrogation.
Edited translation from Al-Masry Al-Youm