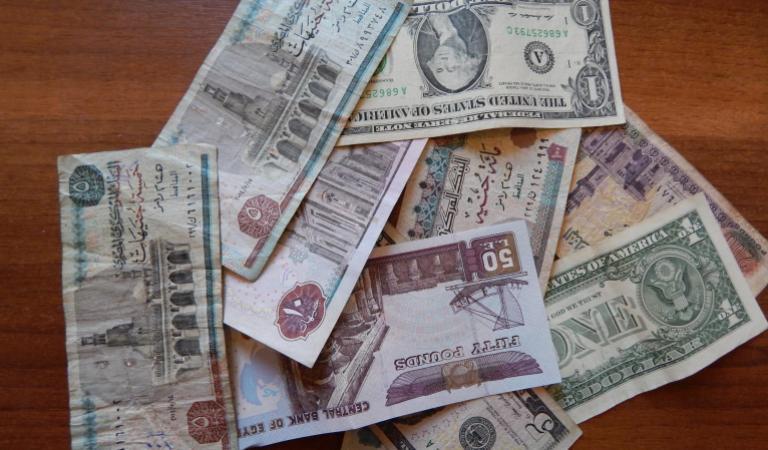 The US Dollar exchange rate saw stable prices against Egyptian Pound in several Egyptian banks with average of LE17.80 on Sunday.
According to the latest updates, the dollar's prices remained at LE17.78 for purchase and LE17.88 for sale in the National Bank of Egypt (NBE) and Bank Misr.
In the Commercial International Bank (CIB) and the Arab African International Bank (AAIB), the dollar also remained at LE17.84 for purchase and LE17.94 for sale.
With al-Qaheraa Bank the dollar was LE17.85 for purchase and LE17.95 for sale.
In Abu Dhabi Islamic Bank (ADIB), the dollar hit LE17.87 for purchase and LE17.97 for sale.
And for the National Bank of Greece (NBG) and Alexandria Bank the dollar increased two by piasters, recording LE17.84 for purchase and LE17.94 for sale.
The exchange rate of the dollar to the pound rapidly increased in 2016-2017 following Egyptian efforts to comply with International Monetary Fund's regulations, through stringent economic reforms. In a statement on the IMF website, the organization calls this inflation "anticipated", as it "reflected the effects of increases in electricity and fuel prices, the VAT, and pass-through from the exchange rate depreciation".
The statement notes that "inflation has been on a declining trajectory since its peak last summer", with annual headline inflation declining from 33 percent in mid-2017 to roughly 11 percent in May, "anchored by interest rate hikes and other well-considered measures taken by the Central Bank Egypt (CBE)".
Edited translation from Al-Masry Al-Youm