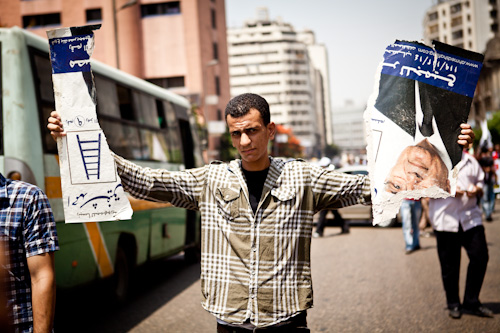 Dozens protested in Tahrir Square on Friday morning against former Prime Minister Ahmed Shafiq remaining in the presidential race after the Supreme Constitutional Court ruled a law that would bar him unconstitutional.
The protesters staged a march around the square and chanted, "Oh Constitutional Court, the remnants are illegitimate."
Traffic flowed normally in the square while the number of street vendors grew in anticipation of more protesters later in the day.
The April 6 Youth Movement called for a march from Mostafa Mahmoud Mosque in Mohandiseen to Tahrir at 5 pm Friday under the slogan, "No to the soft military coup." Former presidential candidate Abdel Moneim Abouel Fotouh announced that he would lead a march from the same mosque.
April 6 activist Engy Hamdy stressed that Shafiq would not be recognized by protesters as the president if he wins the election.
The movement said in a statement Thursday that the political forces, led by the Muslim Brotherhood, took part in impeding the revolution by approving the majority of the military council's decisions, including the flawed Constitutional Declaration.
Protesters gathered in small numbers in Tahrir Square on Thursday night to protest the court's ruling against the Political Isolation and Parliamentary Elections Laws.
On Thursday, the constitutional court ruled that the Political Isolation Law that would disqualify former Shafiq from the presidential election is unconstitutional.
The court also ruled that the Parliamentary Elections Law was unconstitutional because of an article allowing political parties to field candidates for the one-third of parliamentary seats reserved for independents. This ruling would result in the dissolution of the Islamist-dominated Parliament.
Edited translation from Al-Masry Al-Youm