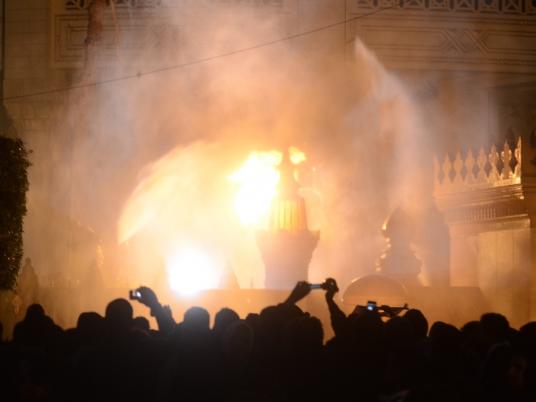 Hamada Saber, the man who was filmed being beaten by police outside the presidential palace, denied the statement he made to the prosecutor general, in which he said he was attacked by the protesters, and accused police of beating, stripping and dragging him, various media outlets reported Sunday.
Video footage showed that security forces dragged Saber, 48, through the streets, stripped him naked and beat him with batons before forcing him into an armored vehicle.
The attack, captured by Al-Hayat and ONtv satellite channel cameras, came amid clashes in front of the palace between security forces and opponents of President Mohamed Morsy's rule.
The video was widely circulated through privately satellite channel and social networking websites.
On Saturday, top media outlets in the country reported that Saber denied reports that security assaulted him. Prosecutors claim he told them that protesters assaulted him, thinking he was from the security forces because he was wearing black. Channel One, the main state TV channel, interviewed Saber, who was lying on bed in a police hospital, saying police didn't beat him.
The testimony caused public uproar, given the fact that Saber has a low income and lives in difficult conditions in the working-class area of Matariya.
Some privately owned channels visited his house, and anti-Morsy media host Wael al-Ibrashy called Saber's son Saturday, saying police pressured his father to change his testimony.
His son Ahmed told Al-Masry Al-Youm Sunday that his father telephoned him Sunday, cried and told him that he was under pressure and being terrorized. Then he asked him to get him out of the Police Hospital and take him home or to any other hospital.
"The police forced my father to lie," he told Al-Masry Al-Youm. "He did not know the incident was filmed."
He pledged to march with his relatives and take his father out of the hospital.
The prosecutor ordered Sunday that Mohamed be transferred to a hospital other than the Police Hospital for treatment.
On Friday, the Interior Ministry said it regretted the attack against Saber.
Saber's treatment comes amid violence in the country that broke out after the two-year anniversary of the 25 January revolution. At least 57 people have died in the nationwide violence, according to Reuters.