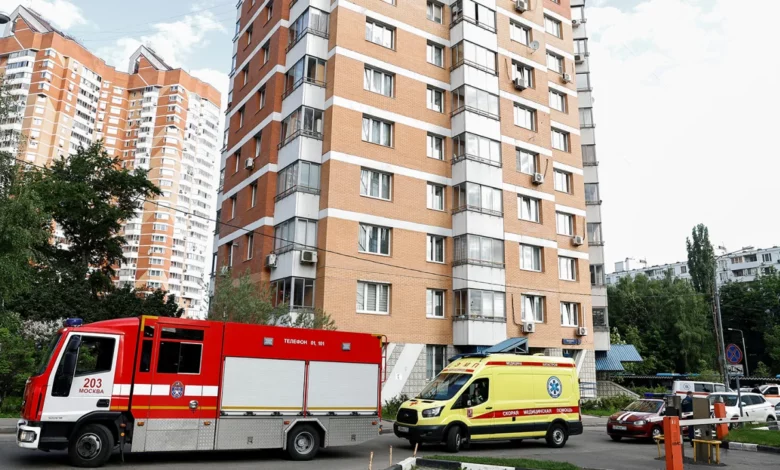 CNN
 —  It's a familiar routine for Ukrainians: Explosions ring out in the city, then videos emerge of drones overhead. Air defenses spring into action, and the authorities put out preliminary statements confirming a strike.
But this time, the shattered glass and concrete is in the Russian capital, not Kyiv. Russia's war on Ukraine, it seems, has come home to Moscow.
Here's what we know so far. On Tuesday morning, a wave of drone strikes hit the Russian capital. According to state news agency RIA-Novosti, one unmanned aerial vehicle struck the upper floors of a residential high-rise in southwestern Moscow, damaging the facade of the building. Another hit a flat on the 14th floor of an apartment building on Leninsky Prospekt, one of the city's main arteries.
Moscow Mayor Sergei Sobyanin gave updates on Telegram, telling residents that emergency services were on the scene and that two people were injured, with none hospitalized. A few hours later, Sobyanin said residents evacuated from apartment buildings hit by drones were returning home.
But it's unlikely that Moscow can return to its uneasy status quo of life during what the Kremlin euphemistically refers to as the "special military operation" in Ukraine. Since Russian President Vladimir Putin launched his full-scale invasion of Ukraine in February of last year, most of Russia has been spared the kinds of scenes that Ukrainians routinely endure.
In the months since, regions of Russia bordering Ukraine have come under fire, with local officials reporting occasional shelling by the Ukrainian side. The Kremlin accused Ukrainian helicopters of striking inside Russian territory Friday, claims Kyiv neither confirmed nor denied.
And earlier this month, drones penetrated the rings of security surrounding the Kremlin, the very seat of power in Russia.
Ukraine denied involvement in Tuesday's attack, even as one top official made it clear that Russia was getting a taste of its own medicine after months of bombarding Ukrainian cities.
"Of course, we enjoy watching and predicting an increase in attacks," said Ukrainian presidential adviser Mykhailo Podolyak. "But of course, we have nothing to do directly with it."
"What is growing in Russia is the karmic payment that Russia will gradually pay in aggravated form for everything it does in Ukraine," he added.
Tuesday's strikes, however, seem qualitatively different than previous attacks. For starters, this was not a symbolic blow against the Russian state, such as the murky drone strike on the Kremlin. Instead, it appeared to strike near the heart of Russia's political and economic elite. Some of the drones apparently hit or flew over Rublyovka, a prestigious suburban area in Moscow's southwest where oligarchs, politicians and top officials live in luxurious gated communities. The area is also very close to Putin's Novo-Ogaryovo residence where the Russian leader is known to spend most of his time.
Russian lawmaker Alexander Khinshtein said Tuesday several drones were downed in Rublyovka, including one in Ilyinskoye, a village around two and a half miles from Novo-Ogaryovo. CNN has geolocated footage from Ilyinskoye that shows a drone flying across the sky.
In a conference call with reporters, Kremlin spokesperson Dmitry Peskov said Putin was at the Kremlin following the Tuesday strikes on Moscow, saying that the president "received information directly from law enforcement agencies, the Ministry of Emergency Situations, the mayor of Moscow and the governor of the Moscow region" after starting his working day early.
"Everyone worked properly," Peskov said. "The air defense system also worked well. Clearly, we are talking here about the Kyiv regime's response to our very effective strikes on one of [their] decision-making centers."
But the symbolism of striking Rublyovka was not lost on Yevgeny Prigozhin, the head of the Russian private military company Wagner.
In response to a question from a journalist, the Wagner boss launched into an expletive-laden rant against the leaders of the Russian Ministry of Defense following the strikes.
"Why the f*** are you allowing these drones to hit Moscow?" he said. "The fact that they are flying to Rublyovka to your home, to hell with that! Let your houses burn."
Prigozhin is never one to miss an opportunity. The mercenary leader — whose political ambitions have unexpectedly moved to the fore in recent months — has been engaged in a bitter public feud with Russia's military top brass and he accused the Russian Defense Ministry of doing "absolutely nothing at all" to modernize Russia's drones and drone defenses.
"As a person who understands this somewhat, I can tell you that many years ago it was necessary to deal with these [drone] programs – that we are now years behind our opponents, years, maybe decades," he said.
It's unclear if this is another opportune moment for Prigozhin to further pursue his vendetta against Russian Minister of Defense Sergei Shoigu. And many questions remain about how a wave of remotely piloted vehicles managed to penetrate Moscow's highly protected airspace, where they were launched from and who ordered the attack.
The Ministry of Defense claimed its air defenses worked, saying all the drones were destroyed, with three suppressed by electronic warfare and another five shot down by surface-to-air missiles. Russian unmanned aviation expert Denis Fedutinov, who has been quoted frequently by state news agency TASS in the past, speculated that the attacks were an effort to probe Russia's air defenses.
"The aim of the raid was probably to ferret out the Moscow air defenses and reveal their vulnerabilities," he said.
But it's clear that the drone strikes are an embarrassment to the Russian military, regardless of how the remotely piloted vehicles were launched. And it remains to be seen if this raid is a precursor to more dramatic and headline-grabbing attacks – amid signs of an imminent Ukrainian counteroffensive.