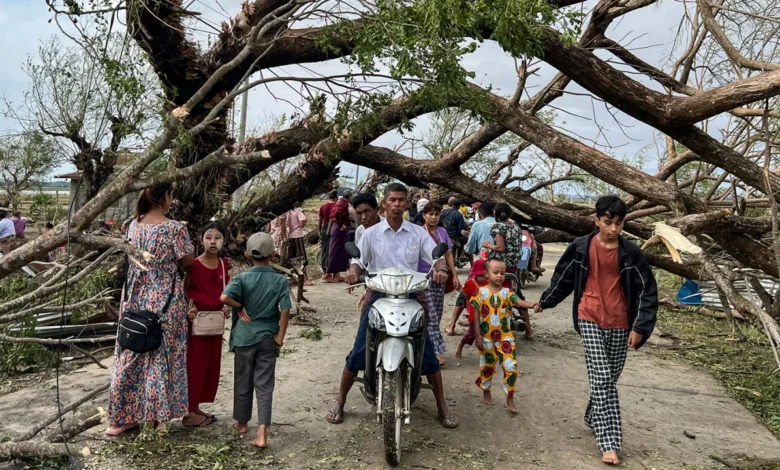 CNN
 —  One of the strongest cyclones to ever hit Myanmar has cut communications to coastal areas as aid groups warn that early reports suggest the damage is "extensive."
Cyclone Mocha slammed into northwestern Myanmar coast, off the Bay of Bengal, with wind gusts of over 200 kilometers per hour (195 mph) on Sunday, crashing through homes and bringing down power lines.
Video from the conflict-racked Rakhine state showed powerful gusts of wind blowing trees to the ground.
People can be seen huddling in temporary shelters, though the full impact of the storm is not yet known due to difficulties contacting people in the region.
"The ongoing wild weather in Rakhine and telecommunications interruptions mean it has not yet been possible to assess the full magnitude of the disaster," said the United Nations Office for the Coordination of Humanitarian Affairs (OCHA).
"But early reports suggest the damage is extensive and needs among already vulnerable communities, particularly displaced people, will be high.
Before the storm, aid agencies in Myanmar, as well as neighboring Bangladesh, launched a massive emergency plan in a bid to minimize the risk of injury and destruction.
They had feared that Mocha would hit Cox's Bazar in Bangladesh, where about 1 million members of the stateless Rohingya community live.
But the tropical cyclone made landfall further south, just north of Sittwe, Myanmar, around 1:30 p.m. Sunday local time (3:00 a.m. ET), according to the Joint Typhoon Warning Center.
Hasina Rahman, Country Director for Bangladesh, International Rescue Committee, told CNN Monday it had been a "close call" for those living in the refugee camps in Cox's Bazar, adding there are no reports of casualties.
However, torrential rain battered Rakhine state in western Myanmar, bringing threats of flooding and landslides.
The last storm to make landfall with a similar strength was Tropical Cyclone Giri back in October 2010. It made landfall as a high-end Category 4 equivalent storm with maximum winds of 250 kph (155 mph).
Giri caused over 150 fatalities and roughly 70% of the city of Kyaukphyu was destroyed. According to the United Nations, roughly 15,000 homes were destroyed in Rakhine state during the storm.