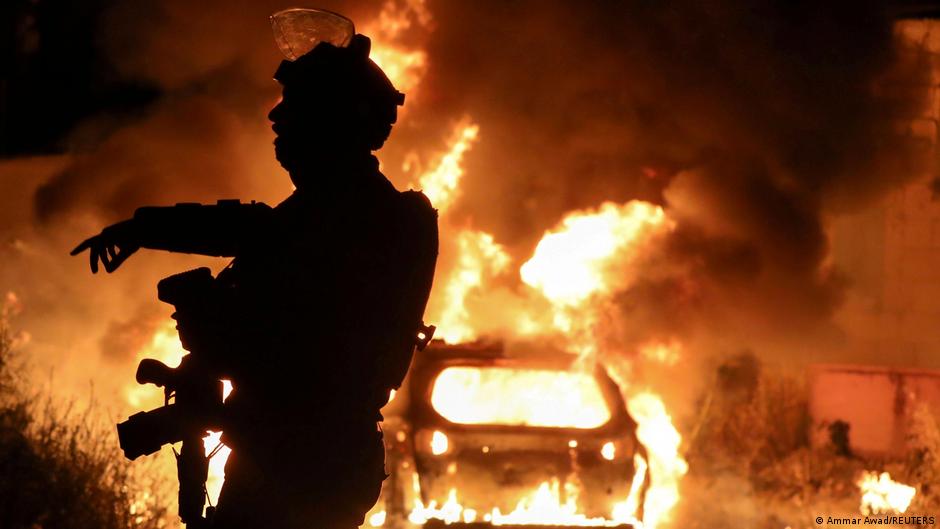 Israeli forces on Friday said they arrested 15 Palestinians after clashes in annexed east Jerusalem.
Tensions have heightened in recent days in Jerusalem as a legal battle with Israeli settlers put dozens of Palestinians at risk of eviction.
Police said Palestinian protesters were setting off fireworks and throwing stones at officers and vehicles early on Friday in the Sheikh Jarrah neighborhood.
Palestinian media reported that Israeli settlers and police had attacked a Palestinian vigil in Sheikh Jarrah early on Friday.
What are the land right cases?
Located in the Arab eastern part of Jerusalem, the neighborhood has been the center of property disputes for decades.
Both Israeli settlers and Palestinians claim ownership in Sheikh Jarrah.
A Supreme Court decision in a property case involving four Palestinian families was expected next week.
Supporters of the families have been gathering in the neighborhood for days to break their Ramadan fast with their communal outdoor sunset iftar meal.
In recent years, forced evictions of Palestinian homes have repeatedly led to protests.
Violence escalates
Clashes in Jerusalem in the past weeks have prompted violence elsewhere.
Israeli forces said they shot and killed two Palestinian gunmen after the men opened fire on a border police base in the occupied West Bank.
"Three terrorists fired towards the Salem border police base," an Israeli statement said. The third attacker was in a "critical condition" after he was also shot.
Earlier this week, Israeli forces killed a 16-year-old Palestinian during a confrontation near the West Bank city of Nablus.
On Thursday, a Palestinian was arrested over a drive-by shooting in the West Bank that killed an Israeli and wounded two others.
UN warns of possible 'war crimes'
The United Nations urged Israel on Friday to call off forced evictions in east Jerusalem, warning that its actions could amount to "war crimes," AFP news agency cited  a spokesman as saying.
"We wish to emphasize that east Jerusalem remains part of the occupied Palestinian territory, in which international humanitarian law applies," UN rights office spokesman Rupert Colville told reporters in Geneva.
Israel also received criticism over a decision to build 540 settlement units in the West Bank. Germany, the UK, France, Spain, and Italy called on Israel to stop the construction of illegal settlements in occupied Palestinian territories.
___