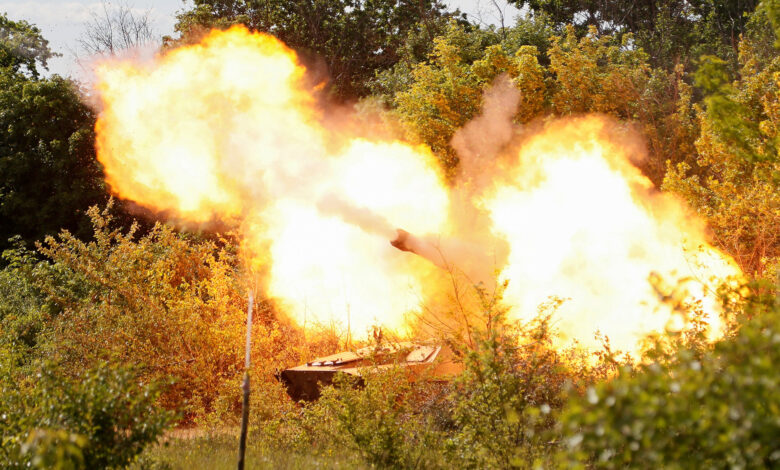 The Ukrainian cities of Severodonetsk and Lysychansk are under Russian assault amid an offensive in the eastern Luhansk region, the Office of the President of Ukraine said in an update Thursday.
Severodonetsk — an industrial city situated across the Siverskyi Donets river from Lysychansk — has been under heavy shelling, and the statement said the Impulse Research and Production Association and 11 high-rise buildings in the city had been destroyed.
Oleksandr Striuk, head of the Severodonetsk military administration, said in a radio interview Thursday that the connection between Severodonetsk and Lysychansk had been "complicated" because of Russian shelling of a bridge between the two cities.
The enemy hasn't stopped shelling residential neighborhoods for the past one-and-a-half weeks, Striuk said.
"12,000 — 13,000 people remain in the city. People are hiding in shelters and basements. The city is under constant fire."
Striuk added that communication was limited and that 90% of Severodonetsk's housing stock had been damaged or destroyed.
The fall of Severodonetsk — the last major city in the Luhansk region under Ukrainian government control — would be a major setback for Kyiv.
"The situation is difficult, especially in the Donetsk operational district," said Fedir Venislavskyi, a Ukrainian lawmaker and member of the parliamentary Committee for National Security, Defense and Intelligence.
"The hottest spots are Severodonetsk and Lysychansk," he said, adding that Russian soldiers were trying to encircle Ukrainian troops before next targeting the cities of Bakhmut and Soledar.
"The enemy partially controls Lyman and is going to the outskirts of Severodonetsk. The situation in this operational area will be very difficult in the coming days," Venislavskyi said.