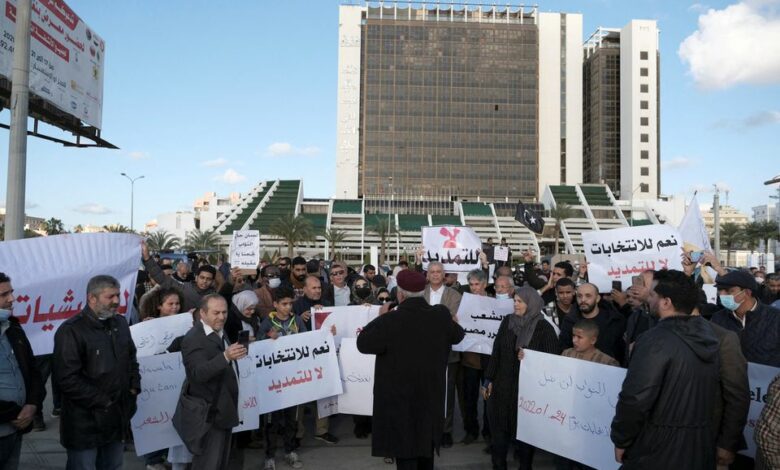 Libyan parties continued meeting in Cairo under the auspices of the United Nations to discuss settling outstanding issues between the Libyan Parliament and the High Council of State, and to agree on a constitutional basis to help organize elections as soon as possible.
Delegates from the House of Representatives in the eastern Libya, and the High Council of State in Tripoli, chose 12 members from each side to participate in the talks.
The Libyan Parliament's spokesperson Abdullah Belhaq explained that talks will continue until April 20, as the consensus of Parliament and the High Council of State on the constitution requires amendments to its controversial articles before the referendum.
The media advisor to the Presidency of the Libyan Parliament, Fathi Al-Marimi, explained that the meeting of the Parliament and High Council of State committees in Cairo aims to reach an understanding on controversial points of the draft constitution, which have been met with great protests from several political and social components.
According to Marimi these points involve the regime and its nature as well as the status of parliament.
UN advisor Stephanie Williams explained that the Libyan people believe that the final solution to the issues afflicting Libya must come through elections.
During her speech at the first session of the two committees' discussions in Cairo on Thursday, Williams made it clear that these elections must be held on a solid constitutional basis, with an electoral framework that represents the protection of the electoral process with clear milestones according to schedule to move forward.
Two governments have been competing in Libya since March, when the eastern parliament appointed Fathi Bashagha to replace the Prime Minister in Tripoli, Abdel Hamid al-Dabaiba, causing the eastern and western sides to butt heads once more.