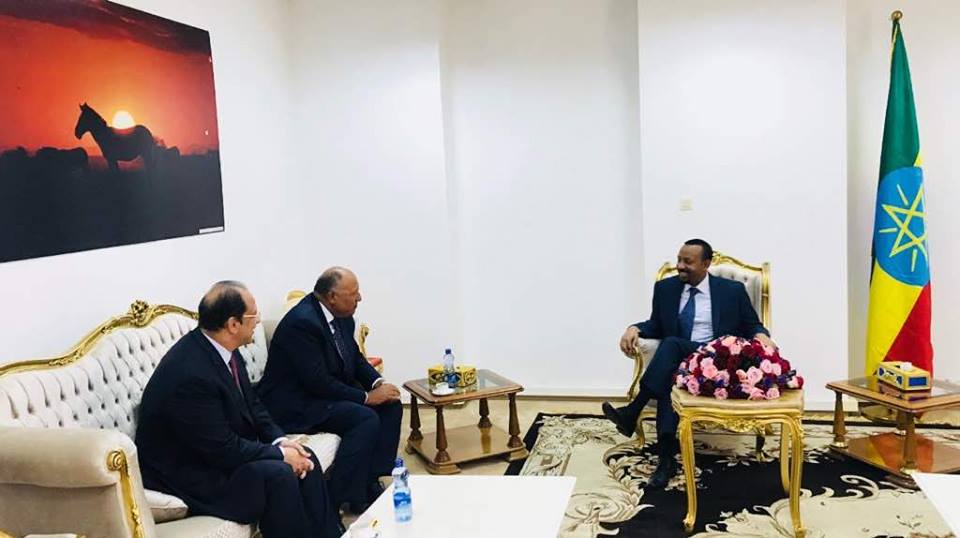 Minister of Foreign Affairs Sameh Shokri joined Abbas Kamel, Chief of the General Intelligence Directorate, to hold a meeting with Ethiopia's Prime Minister Abiy Ahmed on Tuesday.
The three reportedly continued negotiations on the Grand Ethiopian Renaissance Dam (GERD), and "several issues concerning stability in the Horn of Africa region".
Shokri and Kamel reiterated Egypt's willingness to implement the Declaration of Principles between Egypt, Ethiopia and Sudan. The 2015 declaration included agreements on distributing the power generation benefits of the GERD, the principle of each country "not to cause significant harm" and utilize their shared water resources equitably, and the decision between the three to cooperate on the first filling and operation of the dam.
The officials also agreed to activate their tripartite fund with Sudan, which would finance development projects in all three countries, while increasing their trade exchange and mutual investments.
Meanwhile, Kamel and Shokri delivered President Abdel Fattah al-Sisi's goodwill for Egyptian-Ethiopian relations.
The officials discussed preparations for Sisi and Ahmed's meeting on the sidelines of the "Forum on China-Africa Cooperation" in China this September.
In 2011, Ethiopia began construction on the GERD over the Blue Nile River, one of the major sources of the water that forms the River Nile downstream. Ethiopians see the dam as a great national project and a potential means of overcoming poverty. Egypt, however, fears the dam will affect its access to the historic Nile, which it heavily relies on for power generation and agriculture.
Egypt's share of Nile water sits at 55.5 billion cubic meters, while Sudan's quota is 18.5 billion cubic meters. This is in accordance with an agreement signed between the two downstream countries in 1959. Ethiopia is not a signatory to the agreement.
Edited translation from Al-Masry Al-Youm.