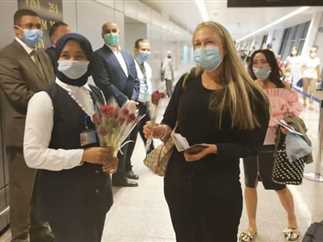 Acting Egyptian Minister of Health and Population Khaled Abdel-Ghaffar announced some measures to confront the new coronavirus variant.
Abdel-Ghaffar said at the cabinet meeting, Tuesday, that no case of the new Omicron strain had been detected in Egypt so far.
He added that direct flights to and from South Africa were stopped.
Abdel-Ghaffar assured that all arrivals at entry points from the countries with the new strain were examined and all positive cases are isolated, while negative cases coming are still followed up for seven days.
Regarding vaccines, Abdel-Ghaffar confirmed that the total number of raw materials for local manufacturing and finished vaccines amounted to 88,176,060 doses of vaccine.
A new shipment of the Pfizer vaccine arrived on November 27, he added, stocked with 3,892,590 doses.
Abdel-Ghaffar pointed out that the total number of vaccines rolled out amounts to about 46 million doses.
He noted that work is underway on the Arrive Egypt application to speed up the pace of entry for tourists.
Egypt's Ministry of Health and Population on Monday reported 911 new coronavirus cases, 65 deaths, and 730 recoveries.
A total of 357,629 cases have been reported in Egypt, with 20,412 deaths and 296,897 recoveries.
The country's fourth wave of the virus is in full force, with daily case figures ten times higher than what was recorded at the end of July.
The Health Ministry has stated that official figures likely only represent 10 percent of actual cases.