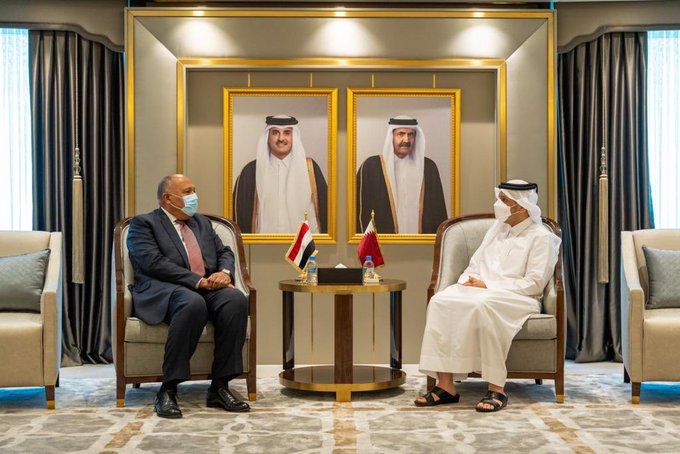 Egyptian President Abdel Fattah al-Sisi issued a decision appointing an ambassador extraordinary to Qatar for the first time since 2014.
Egypt had withdrew its ambassador from Qatar that year, before deciding to completely sever diplomatic relations in mid-2017.
On Wednesday, the Egyptian Official Gazette published Republican Decree No. 258 of 2021, with some appointments and transfers in the Egyptian Foreign Ministry, which included the appointment of Amr Kamal Eddin al-Sherbiny, who was Ambassador at the Foreign Ministry's' General Office, as Ambassador Extraordinary and Plenipotentiary to the Government of Qatar.
The ambassador extraordinary enjoys expanded legal powers, including signing agreements in the name of the state or body he represents, unlike a regular ambassador.
Relations between Egypt and Qatar became tense after the overthrow of the late President Mohamed Morsi and the Muslim Brotherhood in 2013. Egypt joined Saudi Arabia, the UAE, and Bahrain in cutting ties with Qatar on June 5, 2017.
Qatar has been mending its relations with the countries since they all signed the Al-Ula agreement on January 5, 2021.
The foreign ministers of Qatar and Egypt have recentlyexchanged official visits to Cairo and Doha, and the Emir of Qatar, Sheikh Tamim bin Hamad, and Egyptian President Abdel Fattah Al-Sisi exchanged visiting invitations, amid continuing talks to improve relations.
__
IMAGE: Egyptian, Qatari foreign ministers meet in Doha