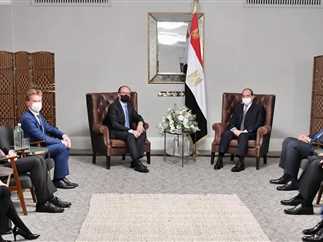 Egyptian President Abdel Fattah al-Sisi reviewed developments related to the Grand Ethiopian Renaissance Dam during his Sunday meeting at his residence in Glasgow with the Chancellor of Austria Alexander Schallenberg, and stressed the utmost importance Egypt that attaches to its historical Nile water rights.
He described the dispute as an existential issue that requires the international community to make all possible efforts to reach a binding legal agreement on the rules for filling and operating the dam in a way that preserves Egypt's water security.
According to Sisi, the settlement of the region's crises can be only achieved through stability and restoring the pillars of the national state and its institutions, done by strengthening national armies and central governments to counter extremist groups and organizations.
Egypt's Presidential Spokesperson Bassam Rady said that Sisi congratulated the Austrian Chancellor on his recent assumption of office, and stressed Egypt's keenness to continue strengthening bilateral cooperation with Austria in various fields – especially trade, economy and tourism.
Schallenberg affirmed his honor to meet Sisi, and said his country was likewise eager to strengthen its ties with Egypt – which he called a pivotal pillar of security in the Middle East and Mediterranean region.
Austria also desires to continue coordinating with Egypt to develop bilateral relations in a way that contributes to achieving their common interests, he added.

The meeting reviewed means to advance bilateral relations between the two countries in light of Egypt's efforts to improve its business climate, encourage the private sector and attract foreign direct investment, Rady said, all under the modern and integrated infrastructure that Egypt currently enjoys.
Schallenberg also appreciated Egypt's efforts in combating illegal migration, as well as combating terrorism and extremist ideology and developing religious discourse, showcasing its influential regional role in spreading the tenants of tolerance, coexistence and respect for freedom of belief, Rady added.
The two officials  discussed the most important developments of the Palestinian cause, and ways to revive the peace process based on international reference as well as Egyptian efforts regarding the Gaza Strip ceasefire and rebuilding the strip.
Egyptian Minister of Irrigation and Water Resources, Mohamed Abdel-Aty called for a specific time table with the presence of international observers regarding negotiations on the rules for filling and operating GERD.
Egypt and Sudan say they want a legally binding agreement, while Ethiopia says any pact should be advisory.
Egypt and Sudan consider the dam a threat to their vital water supplies, while Ethiopia considers it essential for development and doubling its electricity production.
The downstream nations fear possible blows to water facilities, agricultural land, and overall availability of Nile water.
Negotiations over the dam between Egypt, Ethiopia, and Sudan have stalled for years, with the three parties ultimately failing to reach any agreements.
The disputed dam is the largest hydroelectric project in Africa, with a cost of more than four billion dollars.