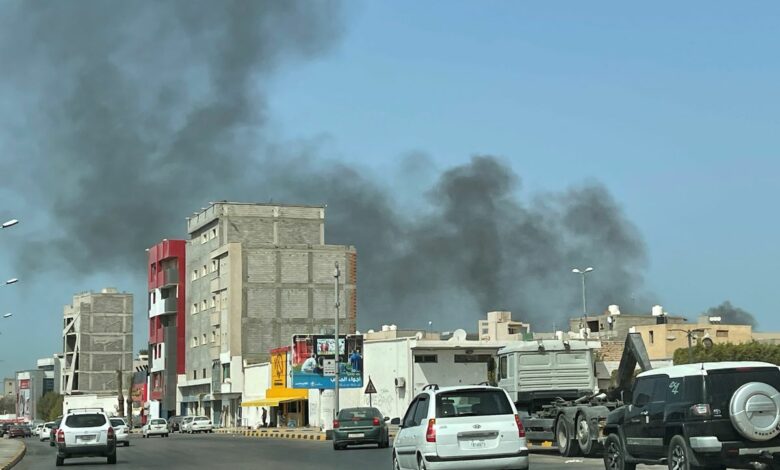 The Egyptian Foreign Ministry said on Tuesday evening that Egypt is following with concern the current developments in Tripoli, calling for the restoration and  calm in the country.
"We stress once again the need to maintain calm in Libya, and to preserve lives, property, and the capabilities of the Libyan people," said the Egyptian Foreign Ministry spokesman Ahmed Hafez.
Hafez urged all Libyan parties to exercise restraint and refrain from taking any steps that would fuel violence, stressing the inevitability of dialogue with the aim of concluding the presidential and legislative elections in Libya simultaneously and without delay.
He stressed the importance of the constitutional track dialogue that is currently taking place in Cairo, in order to achieve the aspirations and hopes of the brotherly Libyan people in moving towards the future at a steady pace.
Tripoli witnessed, on Tuesday, armed clashes between militias affiliated with the government of the outgoing Prime Minister, Abdel Hamid Dbeibeh, and others loyal to the Prime Minister appointed by the Libyan Parliament, Fathi Bashagha.
The clashes came hours after Bashagha and a some of his government ministers entered the Libyan capital to carry out their duties, but they quickly left it in order to save blood, amid a state of security tension and wide Egyptian, Libyan and international calls for calm to return.
The Minister of Interior of the Bashaga government, Issam Bouzreba, called on all police and security forces to support the concerned authorities and cooperate to take over the ministries to carry out the government's tasks from Tripoli.
The Presidential Council called on all parties not to turn political differences into an armed conflict that could lead the country into a dangerous slippery slope threatening the security of civilians.