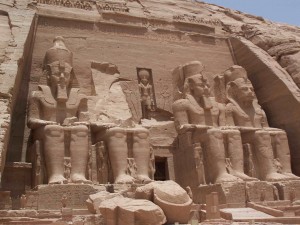 Antiquities Minister Khaled al-Anany and Swiss ambassador to Egypt Markus Leitner inaugurated an exhibition at the Egyptian Museum on Sunday night titled "Abu Simbel: 200 years after Sheikh Ibrahim Burckhardt".
The event commemorates the 200th anniversary since the discovery of the awe-inspiring Abu Simbel Temple which coincides with the death of its discoverer Swiss traveler Johann Ludwig Burckhardt.
Sabah Abdel Razek, director of the Egyptian Museum in Tahrir, said the exhibition will be open to the public from May 15 to June 20 and will display objects Sheikh Ibrahim discovered during his travels in Nubia. Some of these historic artifacts, part of the Egyptian Museum's collections, will be shown to the public for the first time, including two fragments of a wall painting from the rock-cut sanctuary in Wadi al-Seboua of the pharaoh Amenhotep III period.
The exhibition is organized by the Egyptian Museum and the Embassy of Switzerland with the University of Basel, which helped select the items to be showcased and provided ample information outlined on large colorful panels placed throughout the exhibition.
The inauguration was attended by Social Solidarity Minister Ghada Wali as well as other foreign ambassadors.
Johann Ludwig Burckhardt was born in 1784 in Lausanne and brought up in Basel, Switzerland. Following his studies in Germany, he was hired by an association exploring North Africa to embark on a mission to the region by joining the pilgrims' caravan from Cairo through to Fezzan in southern Libya and on to the city of Timbuktu in Mali. Burckhardt studied Arabic and settled in Aleppo, Syria in 1809. Having immersed himself in the culture of the region, he became known as Sheikh Ibrahim Ibn Abdallah.
In 1812, en route from Syria to Cairo, he rediscovered the ancient city of Petra, Jordan. Later, upon arrival in Cairo and while waiting for a caravan to Fezzan, he decided to travel up the Nile.
During his travels in Nubia he discovered the Abu Simbel temples in 1813 which were largely covered by sand.
"2017 commemorates 200 years since Burckhardt's death and since access was made to the Abu Simbel temples. We are very proud to celebrate this important historical and cultural link between Switzerland and Egypt. The exhibition sends a positive message to the Swiss people and encourages tourists to explore Egypt's special history," said ambassador Markus Leitner.
Edited translation from Al-Masry Al-Youm