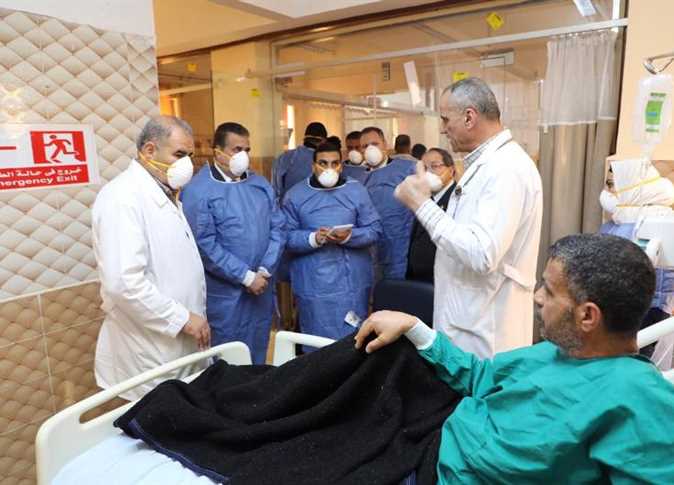 Egypt announced on Sunday 33 new coronavirus cases and four additional deaths, bringing the total number of cases confirmed so far in the country to 327. 
The Sunday casualties included a 51-year-old woman, an 80-year-old man, a 73-year-old man, and a 56-year-old man.
14 people have died from the virus in Egypt.
Health Ministry Spokesperson Khaled Megahed explained that the new cases are all Egyptian nationals who were in contact with previously announced cases. 
The newly discovered cases are currently receiving medical care, according to the guidelines of the World Health Organization, he added.
Fifteen previously confirmed cases registered in Egypt, including seven foreigners and 8 Egyptians, have discharged from hospital on Sunday, bringing the total number of fully recovered cases to 56 so far. Megahed added that seventy-four tests have come back negative.
Egypt has undertaken a new phase to combat the coronavirus through a campaign to disinfect and sterilize government buildings, following an initiative from the Health and Population Ministry to perform weekly sterilizations in public buildings.
Minister of Health Hala Zayed had suggested picking Friday to be a weekly sterilization day, where buildings for public and private sectors, public areas and transportation nationwide are sterilized to battle disease.
Egypt's Religious Endowments Ministry on Saturday issued an order to halt Friday prayers and congregational prayers, closing all mosques and their attachments starting for roughly two weeks, as part of efforts to stop the spread of the coronavirus (COVID 19) outbreak.
Similarly, the Coptic Orthodox Church in Egypt on Saturday has closed all churches and stopped all ritual services, masses and gatherings as part of precautionary measures to prevent the spread of the novel coronavirus.
Egypt's Prime Minister Mostafa Madbouly moved on Thursday to close all restaurants, cafes, cafeterias, casinos, nightclubs, bars, malls, shops and mobile food carts nationwide, from 7:00 pm until 6:00 am each day through March 31.
Egypt has closed schools and universities across the country for two weeks, and incoming and outgoing flights were also suspended starting Thursday, March 19 at 12 pm and lasting until March 31, as part of efforts to slow down the spread of coronavirus.
Madbouly also issued a resolution on March 17 to reduce the number of workers in government departments and agencies, instructing work from home whenever possible.