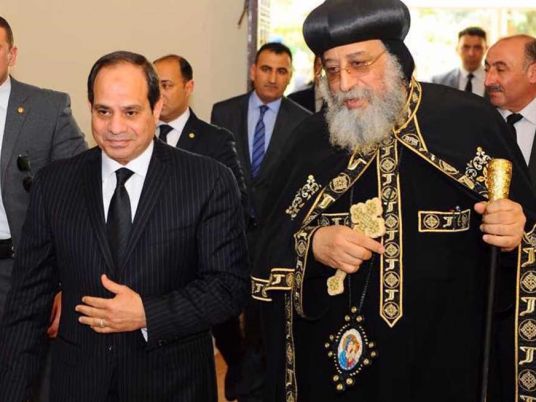 Pope of Alexandria and Patriarch of Saint Mark Episcopate Pope Tawadros II used Easter Sunday sermons to call on Ethiopia to cooperate on the Grand Ethiopian Renaissance Dam (GERD) dispute.
The Coptic Patriarch expressed his hope for "solutions that satisfy everyone".
"We are looking at the sister country of Ethiopia, as we are all on one continent, the continent of Africa, and we call on the government and people of Ethiopia, instead of conflict or troubles, to participate in cooperation and development so that we all work together, as we are brothers of the eternal Nile River."
He added, "We pray that God will bless all good efforts, diplomatic and political efforts, so that we do not resort to anything else, and we pray that God grants wisdom to all those responsible in this matter, as water is a divine gift that God has given for thousands of years."
Pope Tawadros II also called on all countries that live along the river to cooperate and reach a "a consensual solution that guarantees development for all peoples, away from obstinacy and any stubbornness."
"We all want to live in peace, prosperity and growth, and life always teaches us that battles do not bear any fruit. We always pray for the Nile River itself in every mass, confident that the hand of God can work because it is the ruler of all."
Meanwhile President Abdel-Fattah al-Sisi on Sunday wished all Egyptians a happy Sham al-Nessim and Easter Sunday.
"I congratulate the great people of Egypt on the occasion of the celebrations of Sham al-Nessim and the glorious Easter Day, which reflect the unity of this nation and the cohesion of its people."
"Egypt has proven throughout all ages that its Muslims and Copts are a single fabric that will never dissipate… Long live Egypt, and long live its people and army until the Day of Judgment," Sisi said.
Sisi congratulations to Pope Tawadros II on Easter Sunday.
The spokesperson for the Egyptian presidency said that Sisi also "praised the good ties and sincere feelings that unite all the Egyptian people, Muslims and Christians, calling on God Almighty to preserve Egypt and care for its great people, and to bless it with goodness, peace and progress."
Pope Tawadros II in turn thanked Sisi during his Holy Easter sermon in the St. Mark Cathedral in Abbasia.