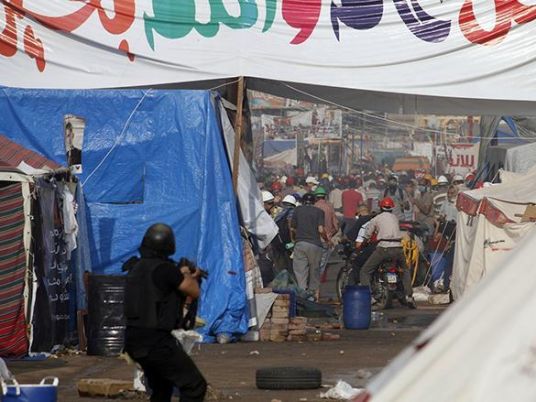 The Cairo Criminal Court on Thursday convicted 66 defendants Rabaa dispersal violence, which took place in August 2013 and killed 632 people according to the official count.
The court sentenced 59 defendants to 15 years in prison, put them under surveillance for five years each, and ordered them to pay for all damages.
Seven more defendants received a five year sentence, while 29 were let go.
The 59 defendants presented documents to acquit them of the charges against them, but the court found them unconvincing and misleading.
The 29 who were cleared presented evidence proving that their presence at the scene of the events was coincidental, either due to being present because of work or because their residence was near the dispersal.
This occurred during a retrial for several defendants in the case, with the first court ruling issued in 2018.
The Public Prosecution charged the defendants with organizing and participating in an armed gathering, premeditated murder, and attempted murder against citizens and the police in charge of dispersing the gathering.
Security forces dispersed supporters of the pro-Muslim Brotherhood president Mohamed Morsi on August 14, 2013 from the Rabaa al-Adaweya square in Nasr City.
Morsi was removed from office by the military nearly one year into his first term in office, after large numbers of Egyptians took to the streets demanding an end to his rule.
The National Council for Human Rights (NCHR) said that the dispersal of the sit-in left 632 people dead, 1492 injured and nearly 800 arrested.
The NCHR said that the Rabaa al-Adawiya Square sit-in indicates that the protest began peacefully until gunmen were seen firing from inside the crowd.
Egypt declared the Brotherhood a terrorist organization in December 2013.
The state insists that the Brotherhood is behind the violent wave of militancy which has targeted security personnel since mid-2013.