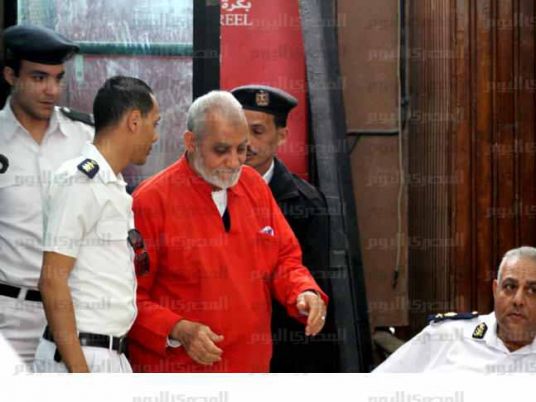 The Cairo Criminal Court on Sunday sentenced the Supreme Guide of the Muslim Brotherhood, Mohamed Badie, to lifetime imprisonment along with other prominent Brotherhood figures Mohamed al-Beltagy, Safwat Hegazy, Essam al-Erian, and al-Hussainy Anter.
The court also sentenced former Supply Minister Basim Ouda to 15 years in jail, and three other defendants 10 years in prison each.
The defendants were referred to trial in September 2013 on charges of inciting violence during the al-Bahr al-Azam incidents. Seven people were killed and 101 others injured in clashes that broke out during July 2013 between supporters of ousted President Mohamed Morsi against security forces and residents.
In September 2014, the Giza Criminal court convicted the defendants in inciting and participating in violent acts, and sentenced them 25 years in prison each.
The defendants appealed against the ruling, and Egypt's Court of Cassation in November 2015 ordered a retrial for all the defendants.
The Prosecution charged the defendants with several counts: unlawful gathering, terrorism, attempted murder, showing force and forming an armed gang to attack citizens, resisting the authorities, possessing firearms and unlicensed ammunition, and joining a terrorist group.
Edited translation from Al-Masry Al-Youm