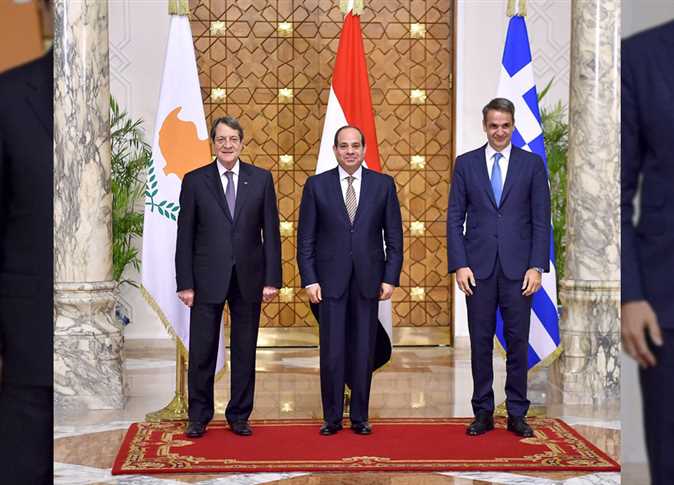 Egypt supports the unity, sovereignty and independence of the Syrian state, Egyptian President Abdel Fattah al-Sisi stressed during the tripartite summit on Tuesday with his Cypriot counterpart Nicos Anastasiades and Greek Prime Minister Kyriakos Mitsotakis.
The three countries support international efforts to propose a political solution to the conflict, Sisi affirmed.
The military operation declared by Turkey in Syrian territories is illegal and unjustified, said a joint statement issued by the tripartite summit.
The statement stressed that Egypt, Cyprus and Greece condemn any Turkish attempt to undermine Syria's territorial integrity or to make any deliberate demographic changes in Syria.
Regarding other regional topics, the three leaders also discussed Tuesday the latest developments in the Grand Ethiopian Renaissance Dam (GERD) negotiations, and expressed deep concern that negotiations have reached a dead end.
They said there is a need for an effective international intervention to overcome the stalemate in the negotiations.
Furthermore, the leaders also expressed deep concern over the deteriorating situation in Libya, stressing that a comprehensive political settlement is the only way to resolve this conflict and restore stability to the North African nation.
In closing, the leaders reiterated their firm support for Cyprus' efforts to reach a comprehensive, just and viable solution to the Cyprus issue on the basis of relevant UN Security Council resolutions and international law, and called on Turkey to end its provocative actions.
Edited translation from Al-Masry Al-Youm