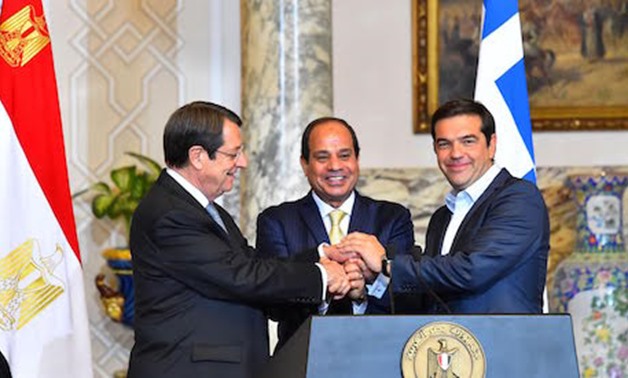 President Abdel Fattah al-Sisi will hold two trilateral meetings with Cyprian president Nicolas Anastasiades and Greek Prime Minister Alexi Tsipras during his two-day-visit to Cyprus on Monday.
Sisi will meet with senior Cyprian officials before holding an address in front of the Cyprian parliament.
The visit will focus on issues of mutual concern, including combatting terrorism, corruption, illegal immigration, and investments in energy and natural gas.
The meetings aim to deepen political, security, economic, commercial and military relations between the three nations.
The leaders will further discuss ways of reinforcing mechanisms of dialogue with the European Union regarding the various challenges that face the Middle East and the Eastern Mediterranean area.
The President will also underline the importance of forming a tripartite committee consisting of ministers of tourism and transportation in the three countries to explore new frameworks of cooperation in the tourism and transportation fields.
The total amount of Egypt's exports to Cyprus surged to EUR 27.3 million in 2016, compared to EUR 20.6 in 2015 while Egyptian commodities to the country increased to EUR 22.5 million during January – July 2017, from Euro 12 million.
Edited translation from al-Masry al-Youm