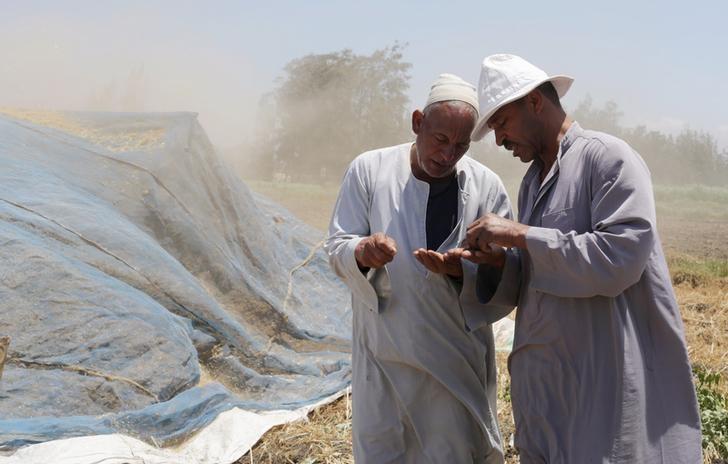 Egypt, the world's largest grain importer, is streamlining its import procedures and establishing a registry of companies that will inspect potential purchases abroad, the Trade Ministry said on Friday.
An intergovernmental feud over import regulations for wheat effectively cut Egypt off from global markets last year.
The latest regulations mean that officials who led the agriculture quarantine process and used to reject many shipments last year will no longer be the lead authority on grains inspections, according to a Trade Ministry statement quoting a decree by the minister.
Egypt will no longer send government inspectors abroad, an intervention that has often delayed the approval process.
The changes will also reduce the role of the Health Ministry, another body potentially able to slow down shipments.
Upon arrival the grains will be inspected by Egypt's General Organization for Export and Import Control (GOEIC), a Trade Ministry agency.
Friday's Trade Ministry decree provided guidelines for a November prime ministerial decree that made GOEIC the new lead authority on grains inspections.
Importers now have to submit a form to the GOEIC specifying the shipment's country of origin and the amount being imported. Approvals are to be issued within two working days of submission. The GOEIC will coordinate with the quarantine authorities over which ports of origin are acceptable to import from.
Traders say the old import regulations made doing business with Egypt at times nearly impossible, with uncertainty over rejections keeping many of them from entering state tenders.
Egypt had imposed a zero-tolerance policy on the common grain fungus ergot last year. The rule was reversed after suppliers shunned the state's tenders and effectively cut off its access to global grains.
The agriculture quarantine body was widely viewed by suppliers as driving the zero-tolerance policy, despite conflicting legislation allowing for trace levels of ergot up to 0.05 percent, a common international standard.