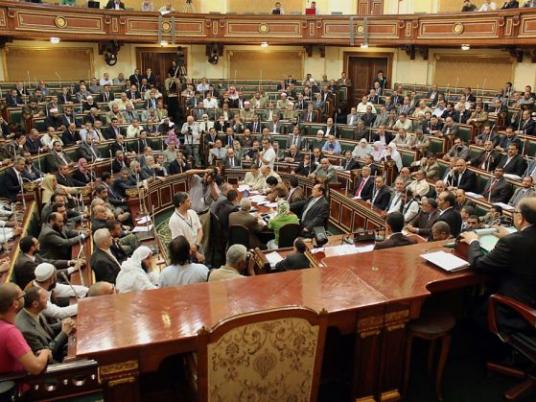 Holding court behind a battered desk at his campaign office in the southern town of Minya, Bahaa Fikry embodies Egypt's past.
A provincial apparatchik in Hosni Mubarak's ruling party before the 2011 Arab Spring uprisings swept them both from power, Fikry may well represent Egypt's future too if he wins a seat in this month's parliamentary elections.
"The change happened and I said: 'Welcome'. What I care about is that my children live better than us… but I found the country was going… to the precipice," says Fikry. "The country needs us, or needs me personally, at this stage."
On paper, Egypt's first parliament in three years should be a powerful one. It has the authority to impeach the president, interrogate the prime minister and withdraw its confidence in him. All laws must be approved by the elected house.
But with the main opposition Muslim Brotherhood now banned and its leaders in jail alongside youth activists at the forefront of the 2011 revolt, the chamber is likely to be packed with supporters of general-turned-president Abdel Fattah al-Sisi, more interested in returning to business-as-usual than building a new democracy.
Egypt has been without a parliament since June 2012 when a court dissolved the main chamber, reversing a major accomplishment of the uprising that ended Mubarak's 30-year rule and ignited hopes of political and economic change.
Sisi ousted elected President Mohamed Mursi of the Brotherhood the following year, after protests against his rule. He won the blessing of other opposition forces, based on an army roadmap that promised to put Egypt back on a democratic course.
Sisi secured his presidency in a 2014 vote. Long-delayed parliamentary elections, now set to take place in two rounds on Oct. 17-19 and Nov. 22-23, are the final steps in a process critics say has followed the roadmap in the wrong direction.
The new parliament will comprise 568 members – 448 elected on an individual basis and 120 through winner-takes-all lists.
Fikry, who was secretary general of the National Democratic Party (NDP) in the southern province of Minya until the party was dissolved in 2011, is running for the first time. But 23 former NDP lawmakers are among the many campaigning across Minya's nine constituencies.
They stand to do well in an impoverished region where those with the cash and connections to help locals access health, education and other services have traditionally dominated.
"These are not real elections and we have seen all kinds of people running, mostly former NDP people, mostly businesspeople trying to buy themselves a seat in the next parliament," said Khaled Dawoud, who resigned as spokesman of the liberal Destour Party following an internal crisis.
Parties under pressure
In the absence of the Brotherhood, now branded a terrorist organisation, the Nour Party offers the government the figleaf of Islamist representation. It backed Mursi's removal and has vowed to limit itself to "polite" opposition, losing credibility among many Islamists. Analysts say it will struggle to repeat its 2011-12 success, when it came second to the Brotherhood.
Smaller liberal and socialist parties, including Destour, have been riven by infighting and have boycotted the vote or been thwarted by costly bureaucratic procedures, leaving just a few scattered critics in the running.
As opposition lists collapsed, "For the Love of Egypt", an alliance of loyalist groups, emerged as a leading force.
Sameh Seif Elyazal, the ex-intelligence officer heading the alliance, says he will seek to form a bloc to lead the house.
In the absence of a parliament, Sisi has wielded legislative authority, passing some laws that critics say curb freedoms.
The constitution demands parliament pass or reject these within two weeks. With so many laws to debate, MPs will be under pressure to rubber stamp the lot to avert a constitutional crisis. Seif Elyazal favours this approach.
But the preponderance of independents and the absence of a ruling party to replace the NDP could make negotiations more difficult for the government as it seeks to pass legislation.
Indeed, loyalists struggled for over a year to build an alliance to secure Sisi a sizeable bloc of parliamentary support ahead of this month's vote. They could be faced with more horse-trading after the ballot.
"It will be difficult to cobble together a majority. The regime is likely to find it a nuisance. Individual deputies will have an incentive to make a lot of noise or to secure benefits for those who elected them," said Nathan Brown, a professor at George Washington University in the United States.
"The result is likely to seem obstructionist and venal. It will be both, but that's the way it has been designed." he said, referring to the election law which was finalised this year and favours individuals over parties.
Paper parliament
Speculation is already rife that the constitution, passed in a referendum held after Mursi's removal but before Sisi became president, will be amended to curb parliament's powers.
Seif Elyazal has suggested that those powers should be revised, a view endorsed by Fikry and other ex-NDP candidates.
"I am, to begin with, against the article in the constitution that says I can withdraw confidence in or accept the naming of the prime minister," said Amro Azzam, an ex-NDP parliamentarian running in Minya province. "These are things that should be the domain of the president we elected."
Despite the election posters festooning the streets and advertisements on the radio imploring people to vote, however, many people are not paying attention.
Election fatigue has long since set in among Egyptians who have reaped few rewards from repeated trips to the ballot box since the heady days of 2011. During last year's presidential ballot, voting was extended amid low turnout.
One thing politicians of all stripes agree on is that turnout is unlikely to top 35 percent.
"This is all nonsense. If I had a problem would any of these candidates fix it? No. I have never seen a member of parliament so much as stop a street fight. They are all failures and will do nothing for us," says Mohamed Abdel Ghaffar, a young mechanic in the Mediterranean city of Alexandria.
As the sun sets on Upper Egypt, farmers in long robes till the fertile land on palm-fringed river banks. Here, barefoot children share dirt roads with donkeys pulling carts laden with milk and sugar cane. Locals complain of undersupplied hospitals and high illiteracy, the legacy of decades of neglect.
Change is perhaps more critical for people here in Egypt's deep south than it is anywhere, and there are candidates who are keen to bring it about, despite their links to the past.
In his early 30s, Hassanein Abou Almakarem, is a police officer who resigned to run in elections. He comes from a distinguished local family. His uncle was an MP for more than three decades.
Yet he, for one, would oppose efforts to neuter parliament.
"The single party… is no longer present. The government must be formed by coalition… The coming MPs will not be afraid of anyone because no government backed them, only the people," he said. "Any step forward… however feeble, is still a change for the better."