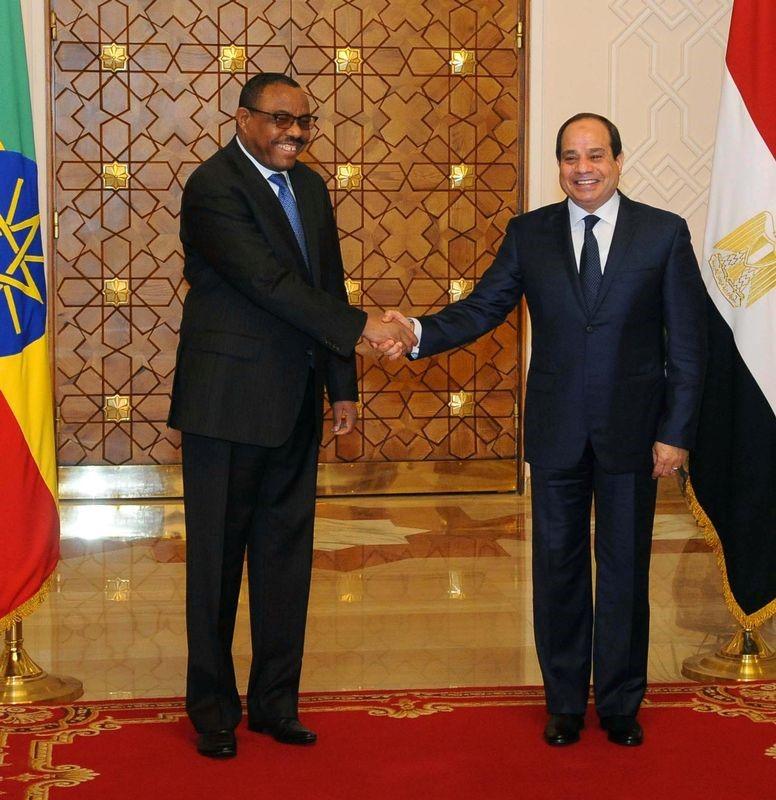 The relation between Ethiopia and Egypt is like a marriage relationship that has no divorce, Egypt's Ambassador to Ethiopia Abu Bakar Hefny said.
It is "eternal and historical, and the diplomatic relationship reached the highest level of understanding," he added.
Hefny also praised his excellent relationship with the Ethiopian Foreign Minister Workneh Gebeyehu.
Hefny announced a meeting for the Egyptian-Ethiopian Business Council, which will be hosted in Ethiopian capital Addis Ababa in May.
In an exclusive interview with the Ethiopian News Agency, the ambassador said that the tripartite summit between Egypt, Ethiopia, and Sudan on the sidelines of the African Union summit on Monday, brought together President Abdel Fattah al-Sisi, his Sudanese counterpart Omar al-Bashir, and Ethiopian Prime Minister Hailemariam Desalegn. He hailed the summit as "very important," saying it was "carried out in accordance with the mechanism of the principles agreement."
In the summit they discussed transforming the three countries into a unified economic bloc, and linking them through railway and roads, the Hefny revealed.
The three leaders agreed to form a committee to help move past former tensions regarding the Grand Ethiopian Renaissance Dam, the committee will consist of personnel from the ministries of interior, water, and foreign affairs.
The agreements of the tripartite meeting will be announced before the end of the month, Hefny stated, while requesting the media to be patient and not to demonstrate prejudice regarding the results, in order to avoid brewing tension between the neighbouring nations.
According to Hefny, the role played by media organizations regarding the dam dispute was not positive, due to the lack of information, especially regarding the positions of the three countries.
Hefny said that the volume of trade exchange between Egypt and Ethiopia "is very small compared to Kenya."
Trade exchange between Kenya and Egypt is worth $1 billion annually, while the Egyptian investments in Ethiopia is estimated at $750 million.
Hefny emphasized that Desalegn's visit to Cairo "represents a step towards achieving a great development in the relations between the two countries," and that the bilateral summit between Sisi and Desalegn laid an important milestones in strengthening diplomatic and political relations. It also contributed to the conclusion of a trade and customs cooperation agreement, the establishment of an Egyptian agricultural fund, hospitals and an industrial zone in Ethiopia, he said.
Sisi and Desalegn also discussed ​​establishing a plant for producing renewable energy using solar and wind energy, estimated at 100 watts.
Edited translation from Al-Masry Al-Youm