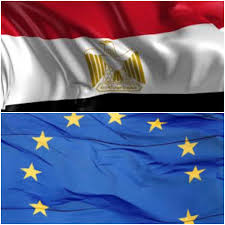 Egypt signed on Thursday two agreements with the European Union amounting to a total of €135 million, reported Al-Masry Al-Youm. The first agreement aims to help Egypt's growth through providing job opportunities, while the second agreement aims to battle illegal immigration.
The signing ceremony was attended by Minister of Investment Sahar Nasr and Director-General for EU Neighborhood Policy and Enlargement Christian Danielsson.
Nasr stated the first agreement was for a program titled "EU program for inclusive growth and creating job Opportunities" and is worth €75 million. The program will help the Egyptian people deal with the economic hardships through two ways.
The first is through providing long-term funding options to small and medium businesses. Secondly, the program will also aim to establish connections between small business owners, medium business owners and owners of large businesses to ease the exchange of funding and ideas, as well as create job opportunities.
Egypt has been fairly successful in fighting unemployment. A report by the Central Agency for Public Mobilization and Statistics (CAPMAS) in August said Egypt had succeeded in lowering unemployment from 11.98 percent to 9.9 percent in the past year.
As for the second agreement, which aims to battle illegal immigration, Nasr said the it amounted to €60 million and aims to battle illegal immigration, smuggling and human trafficking through trying to battle the social and economic reasons for the spread of the phenomenon.
She added that the program will aim to provide seven projects in 15 cities.
The first project will be an employment and worker concentration project, which will spread across 11 cities: Minya, Assiut, Dakahliya, Beheira, Al-Sharkiya, Fayoum, Gharbia, Qalyoubia, Kafr Al-Sheikh, Luxor and Menoufiya. Amounting up to €27 million, the project will aim to firstly improve the infrastructure of cities that have been hit most with illegal immigration, such as Beheira, Assiut and Alexandria. This step will cost €17 million.
The second step for the project will be to create several educational programs in the areas most affected by illegal immigration, with €6 million allocated to this purpose.
The third step of the project is to support women and ease family burdens that lead to illegal immigration, with €4.6 million.
Moreover, for the cost of €3 million, the EU will provide assistance and support to the Passports, Immigration and Nationality Administration. Finally, for the cost of €1.4, assistance will be provided for civil organizations aiming to battle illegal immigration in Cairo and Alexandria. For the cost of €1 million, assistance will be given to similar organizations working in Upper Egypt.
Egypt has been working with the EU on battling illegal immigration for a while. In 2017, President Abdel Fattah Al-Sisi met with EU Commissioner for Migration, Home Affairs, and Citizenship Dimitris Avramopoulos to work on ways to enhance cooperation between them in battling illegal immigration.
At that time, Sisi suggested battling illegal immigration has to come through a comprehensive plan to battle the causes of the phenomenon. This includes solving the entire region's crisis and improving standards of living, he said.