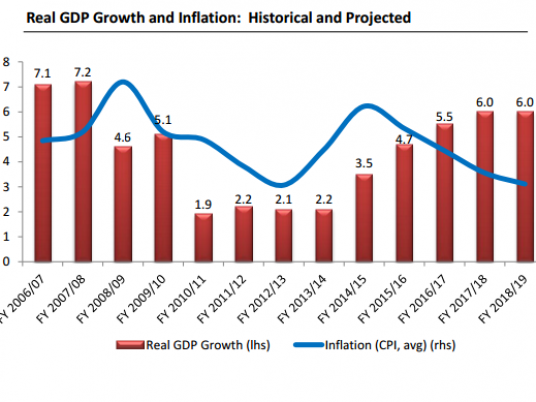 The Egyptian Finance Ministry expects growth of gross domestic product (GDP) to climb steadily and to reach 6 percent in FY 2017/18 as private sector investment rises to 15 percent of GDP.
"These are realistic and achievable targets which will be supported by the government of Egypt's commitment to sound macroeconomic policies, in particular a concerted drive to achieve fiscal sustainability," according to the five-year macro-economic policy framework issued by Finance Ministry on Sunday.
Egypt's real GDP in FY 2013/2014 reached 2.2 percent, almost the same as in the preceding fiscal year.
The Egyptian government will reduce its deficit to 8.5 percent of GDP and its debt burden to within 80-85 percent of GDP, from current levels of 12.6 percent and 97 percent of GDP, respectively, by the end of the five-year forecast period, according to ministry.
"The inflation rate will gradually fall within the CBE's single digit comfort zone, as prudent monetary policies are maintained and supply-side bottlenecks (energy, transport, and distribution) are addressed," the ministry said.
The World Bank's MENA Economic Monitor's recent expected to grow at 3.1 percent in 2015 and the budget deficit to reach 10.5 percent of GDP.
Meanwhile, the International Monetary Fund (IMF) expected an increase in inflation to 13.5 percent in 2015 versus 10.1 percent in the previous year.