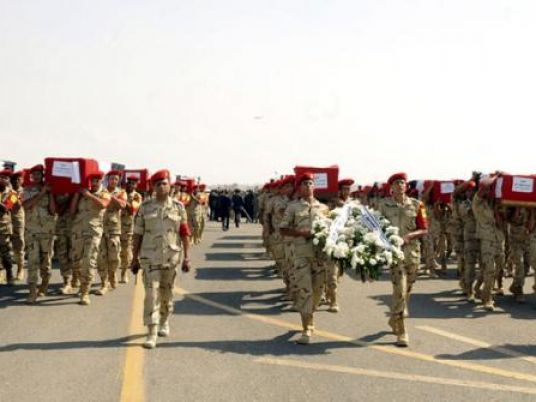 Egypt is considering expanding the jurisdiction of military courts and displacing thousands of residents to enlarge a military buffer zone near the border with the Gaza Strip following an attack on security forces in the area.
Two attacks on Friday in the Sinai Peninsula bordering Israel and the Gaza Strip killed at least 33 security personnel in some of the worst anti-state violence since former army chief Abdel Fattah al-Sisi ousted Islamist President Mohamed Morsy of the Muslim Brotherhood last year.
Sisi, who became president in June, said the military would respond by taking "many measures" in the border area where a buffer zone is likely to be expanded in order to pursue militants and destroy tunnels used to smuggle weapons and fighters.
Security sources told Reuters the army was considering relocating residents to clear a larger buffer zone.
On Saturday, Egypt's council of ministers proposed a measure, now awaiting Sisi's approval, which would see military courts used to try civilians accused of offences such as blocking roads or attacking public property.
Sisi's critics are likely to see such a step as the latest move to clamp down on dissent by a government that has jailed thousands of political opponents and banned the Muslim Brotherhood, which denies involvement in militant violence.
Sisi said in a televised address that Egypt was facing "an existential battle" from the Islamist insurgency, based mostly in the Sinai, that has raged since Morsy's ouster. Cairo does not differentiate between radical Islamist groups and the Brotherhood, which maintains it is a peaceful organisation.
No group has claimed responsibility for Friday's attack but similar operations have been claimed by Ansar Bayt al-Maqdis, Egypt's most active Sinai-based jihadist group.
Sisi said the attacks had benefited from "foreign support" without specifying a particular country or group.
Officials say militants operating in Sinai are inspired by Islamic State, the al Qaeda offshoot now targeted by U.S.-led airstrikes in Iraq and Syria. A senior commander from Ansar has told Reuters that Islamic State has advised it on operating more effectively.
A three-month state of emergency went into effect on Saturday in parts of North Sinai where the attacks happened.
Ending martial law throughout the country, which gives the authorities wide-ranging policing powers, was one of the demands of the popular uprising that ousted Hosni Mubarak in 2011 and paved the way for Mursi's election a year later.
The proposed measure on military courts threatens to revive some of its most repressive aspects and could be used alongside a strict new law curbing protests. Liberal and secular activists have been targeted by that statute alongside thousands of Brotherhood supporters rounded up in Sisi's crackdown.