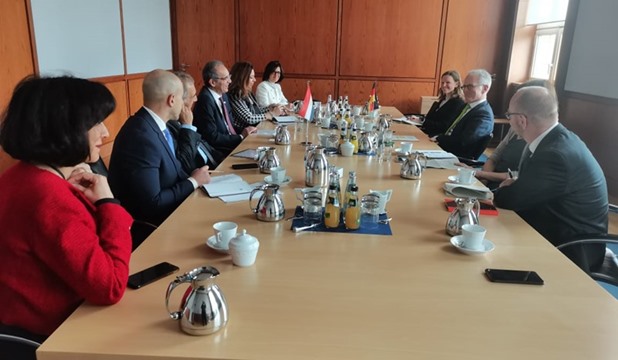 Minister of Communications and Information Technology Amr Talaat has discussed in a meeting in Berlin with Niels Annen, Parliamentary State Secretary to Germany's Federal Minister for Economic Cooperation and Development, means of fostering cooperation in the areas of information technology and digital transformation, according to a statement released by the ICT Ministry on Friday.
During the meeting, the two ministers reviewed the existing projects carried out by the Ministry and the German Agency for International Cooperation (GIZ) that aim to support e-government and innovation in public administration, the statement added.
The two sides also probed a plan drawn up by the ICT Ministry to stimulate the industry of information technology and create an environment conducive to investment in outsourcing, the statement read.
Talaat held a separate meeting with Udo Philipp, State Secretary at Germany's Federal Ministry for Economic Affairs and Climate Action, where they explored mechanisms for advancing cooperation in the fields of communications and information technology.
In a related context, the communications minister paid a visit to Werner Enterprises' innovation center, which focuses on manufacturing innovative industrial products.
While inspecting the center, Talaat was briefed on the latest technologies in automation, robotics, cybersecurity, blockchain technology, 3D printing, e-finance and digital twin.
Talaat met with Steffen Kuhn, Head of Detecon's Digital Innovation, Research and Engineering Centers, to discuss opportunities for cooperation in the Fourth Industrial Revolution's technologies.
The communications minister attended a roundtable with members of the Euro-Mediterranean-Arab Association (EMA), where he reviewed the projects executed by Egypt's communications and information technology sector and networking opportunities between Egyptian and German small and medium-sized enterprises, the statement concluded.