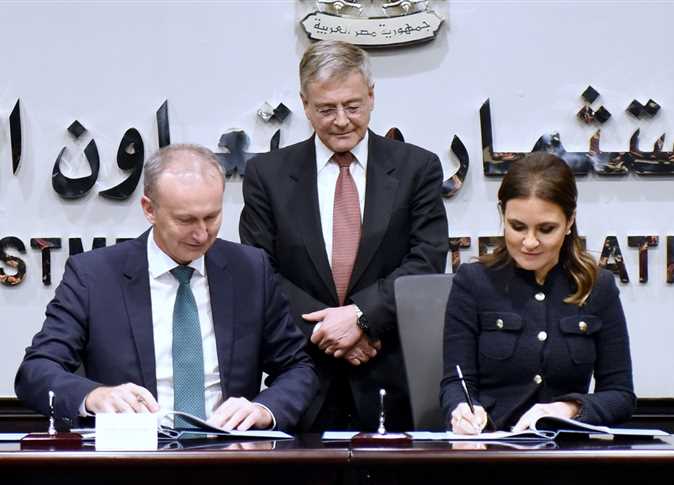 Egypt and Germany signed the second tranche agreement of $250 million to support Egypt's economic and social reform program, as part of Germany's $500 million support for the program within two phases.
The agreement was signed by the Egyptian Minister of Investment and International Cooperation, Sahar Nasr, KfW Development Bank's Management Committee member Helmut Gauges and the director of the bank office in Cairo Burkhard Hinz, in the presence of the German Ambassador to Cairo Julius Georg Luy.
Nasr said that this agreement will focus on supporting the social side of the government's economic program, by investing more in the human element, within the framework of an integrated system to support Egypt's economy.
She explained that the system aims at improving services provided to Egyptian citizens, taking into account the social dimension by supporting the neediest groups.
The minister said that signing the agreement shows confidence from Germany and international institutions to the success of the program of economic and social reform of Egypt.
Nasr called on German companies to invest further, as Germany's investments in Egypt increased have over the past four years to reach $7.1 billion with about 1,215 companies. German investments in Egypt range from petroleum, chemicals, automotive, telecommunications, iron and steel.
German ambassador Luy said that his country has supported Egypt from the outset of the bold economic reforms, and expressed his happiness that the economic growth in Egypt is now taking a positive trend, adding that Germany fulfills its promises and stands besides Egypt.
Luy praised the improvement of the Egyptian economy, pointing out that this came thanks to courageous steps taken by President Abdel Fattah al-Sisi to push the his country's economy forward.
Cairo bank office director Burkhard Hinz stressed Germany's keenness to support Egypt economically during the next stage.
Edited translation from Al-Masry Al-Youm