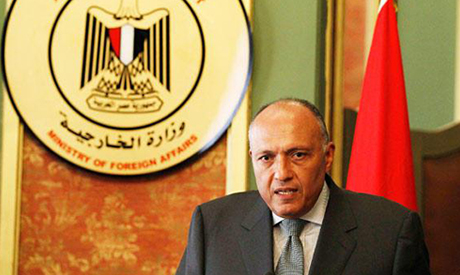 Cypriot Foreign Minister Nikos Christodoulides and Greek Foreign Greek Foreign Minister Nikos Kotzias arrived in Cairo on Friday afternoon to meet Egyptian Foreign Minister Sameh Shoukry for three-way talks.
Spokesperson for the Egyptian Foreign Ministry Ahmed Abo Zied said that the meeting reviewed progress made to implement the electricity interconnection project between African and European continents across the three countries, and energy cooperation projects in light of recent hydrocarbon discoveries in the Eastern Mediterranean region.
The meeting also discussed cooperation in olive growing, fisheries and information technology fields.
Greece and Cyprus's Foreign Ministers also expressed their appreciation for the tripartite cooperation with Egypt and desired improve them, particularly in regard to the development of economic relations.
Cyprus's "Financial Mirror" newspaper said before the meeting that the three ministers would discuss the joint Eastern Mediterranean gas pipeline project to export gas to Europe and guarantee the right of the three countries to seek gas explorations without restrictions from Turkey.
The proposed project will start with a 170 km pipeline from the South Cyprus coast, extending 2200 km to Otranto in Italy, passing through Greece and Crete Island.
The capacity of the pipeline pumps 20 billion cubic meters of gas annually, while Europe's imported gas needs are expected to rise to 100 billion cubic meters annually by 2030.
Edited translation from Al-Masry Al-Youm