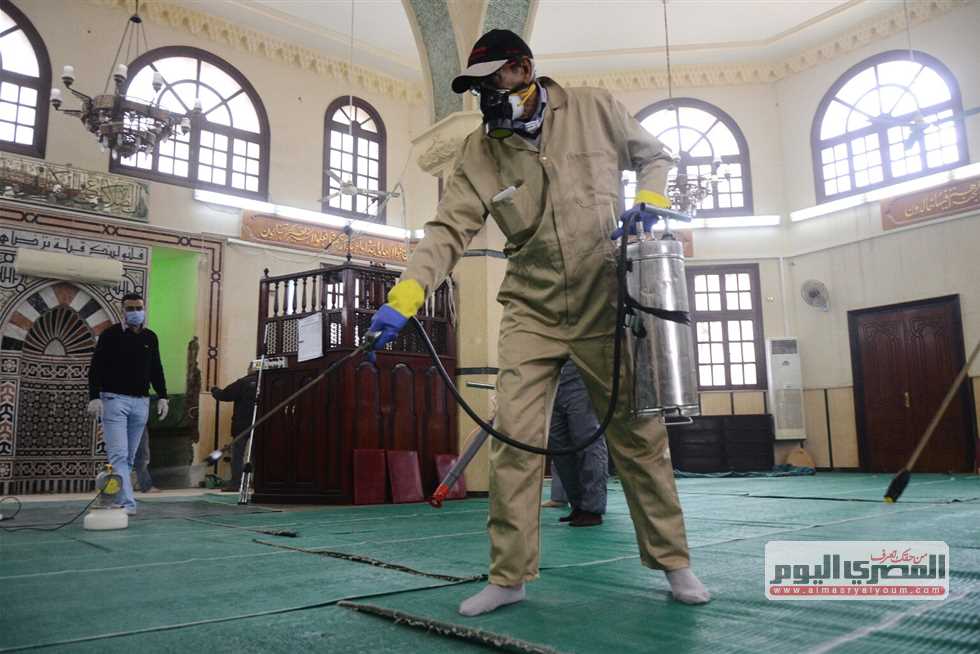 Egypt's Endowments Ministry on Tuesday approved rules and regulations to gradually reopen mosques for the five daily prayers. A ban on Friday's collective prayer, however, will still remain in place.
The Ministry approved the reopening of mosques designated by the Endowments Directorate in each governorate for the five daily prayers, with an emphasis on adhering to the following measures:
– Toilets must remain closed.
– Banquet halls will be closed, and funerals, funeral prayers, marriages and any other social events will remain banned for the time being.
– Shrines shall remain closed.
– Friday prayers are still suspended until further notice.
– Women's prayers rooms are to remain closed.
– No lessons, seminars, recitations or activities other than performing the five prayers are allowed.
– The Imam, or the person in charge of the mosque, must be present during all prayers, and must not leave the keys of the mosque with anyone who is not an employee of the ministry.
– A mosque is to be opened ten minutes before the Adhan and to be closed ten minutes after prayers concludes, allowing the mosque to remain open for no longer than half an hour after the Adhan.
– Employees should regularly disinfect and sanitize the mosque.
– At this stage, the reopening will be limited to main mosques. Small mosques may be reopened with written approval from the director of the concerned Endowments Directorate. In such a case, the mosque will be opened under the directorate's supervision using the above guidelines.
Worshippers, meanwhile, are expected to commit to the following guidelines:
– Worshipers must wear face masks.
– Each individual should use their own personal prayer rug.
– Worshippers should abide by social distancing markers that will be placed in the mosques.
Other regulations include:
– New mosques can be opened for prayers after their management is handed over the Endowments Ministry, provided that they follow the regulations for reopening and the instructions of the concerned Directorate.
– In the event that worshippers do not comply with the regulations, the mosque will be closed immediately and will not be reopened until the coronavirus crisis has passed.
– In the event that the keys of any mosque are left with anyone who is not an employee in the ministry, the maximum penalty will be imposed on the person responsible.
– Anyone violating these guidelines will be referred to the Values Committee in the Religious Sector.
The head of the Religious Sector is to be provided with a list of the mosques that will be reopened for prayer in accordance with the controls no later than Thursday, June 25, under the responsibility of the head of each directorate.
The gradual reopening will start from Saturday, June 27, after concluding the necessary preparations.
The Ministry warned that it will take legal measures towards any person who opens any mosque without the supervision of endowment directorates.
Edited translation from Al-Masry Al-Youm