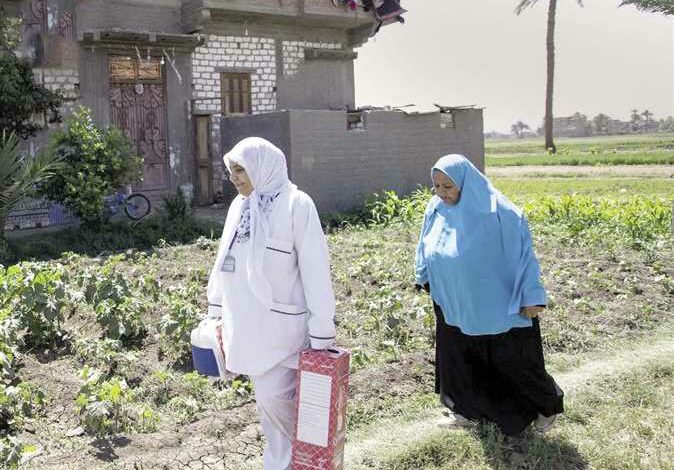 The Egyptian Health and Population Ministry intensified knock-on-door campaigns to ensure that citizens can easily obtain coronavirus vaccinations, in light of the high toll of COVID-19 infections around the world.
The ministry announced setting up 21 vaccination booths along the coastal road in the north coast to provide vaccines in coastal cities.
The ministry said that mobile medical teams will arrive at homes to help those who are unable to go to receive the vaccine in the medical centers or health units.
The ministry stressed the need to receive the booster dose of the vaccine, especially as it ensures that the chances of infection are reduced.
Tourism and the sixth-wave
The Minister of Higher Education and Scientific Research and Acting Minister of Health Khaled Abdel-Ghaffar – during a meeting with officials of the ministry at its headquarters in al-Alamein city – followed up the medical insurance plan for coastal cities and tourist destinations, in conjunction with the summer vacation period and the increase in the number of vacationers.
The minister stressed the need for full preparedness and periodic follow-up of hospital equipment and the availability of medical supplies, to deal quickly with any developments or emergencies. He ordered to increase the number of ambulances and mobile convoys, to provide medical services to citizens in all coastal cities and places where vacationers gather.
Abdel-Ghaffar directed to provide sufficient balances of the coronavirus treatment protocol drugs in all hospitals and health units in coastal cities and governorates.
The importance of precautionary measures
He renewed his call to citizens to adhere to precautionary measures, wear facemasks in closed and crowded places, and ensure they receive vaccinations and booster doses to protect themselves and others.
The Advisor to the President of the Republic for Health and Prevention Affairs Mohamed Awad Tag Eddin said on Thursday Coronavirus cases are on the rise again.
Patients must take the necessary treatment and follow the doctor's advice in case of infection, Tag Eddin said.
Most cases of infection with the virus and its variants range between mild and moderate at about 90 percent or 95 percent of the total infections, according to Tag Eddin.