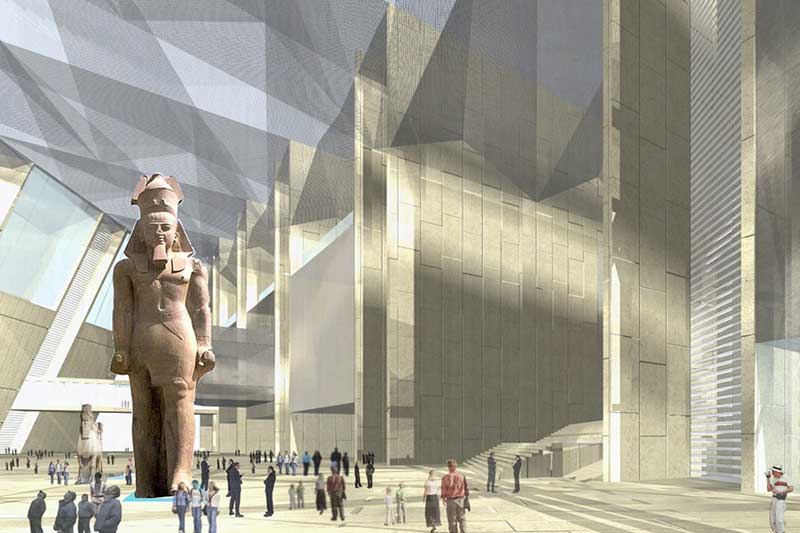 Egypt has topped The Independent's new travel recommendations list for 2020, with the newspaper urging people from around the world to pay a visit to Cairo's much-anticipated Grand Egyptian Museum.
Entitled "This is Where The Experts Recommend For Travel Next Year, From Egypt To Pakistan," the list ranked Egypt as number one, followed by Pakistan, Taiwan, Marrakech, Manchester, Dubai, and more.
"Set to be the world's largest archaeological museum, this exhibition space will showcase a vast array of ancient Egyptian finds — 30,000 of which have never been exhibited to the public," The Independent said.
Constructed on approximately 500,000 square meters, the mega museum is located near the Giza Pyramids and is expected to be one of the largest museums in the world showcasing artifacts from a single civilization.
The museum will also break new ground and aims to impress with King Tutankhamun displays, exhibiting artifacts that have never been shown since they were unearthed in 1922.
After several years of work on restoration and transportation, the GEM is expected to house around 100,000 artifacts from various periods of Egypt's rich history.
For her part, Minister of Tourism Rania al-Mashat has said that the GEM should play a significant role in reviving tourism as Egypt's main source of income.
According to official figures provided by The Independent, 11 million people visited Egypt last year. Moreover, the English newspaper has predicted a remarkable comeback for the Egyptian tourism sector, especially given the resumption of flights to the South Sinai vacation spot Sharm El Sheikh, citing luxury tour operator Abercrombie & Kent.
The UK suspended flights to Sharm El Sheikh after a bomb exploded on a Russian plane flying over Egypt's Sinai in 2015. It wasn't until October 2019 that the ban was finally lifted.
The Independent's Travel Team introduced the travel list in 2002 to put a spotlight on the most-recommend travel destinations for tourists.
National Geographic also selected Egypt's Aswan among its city picks for 2020 along with Spain's Asturias, China's Guizho Province, and Turkey's Gobekli Tepe, among others.