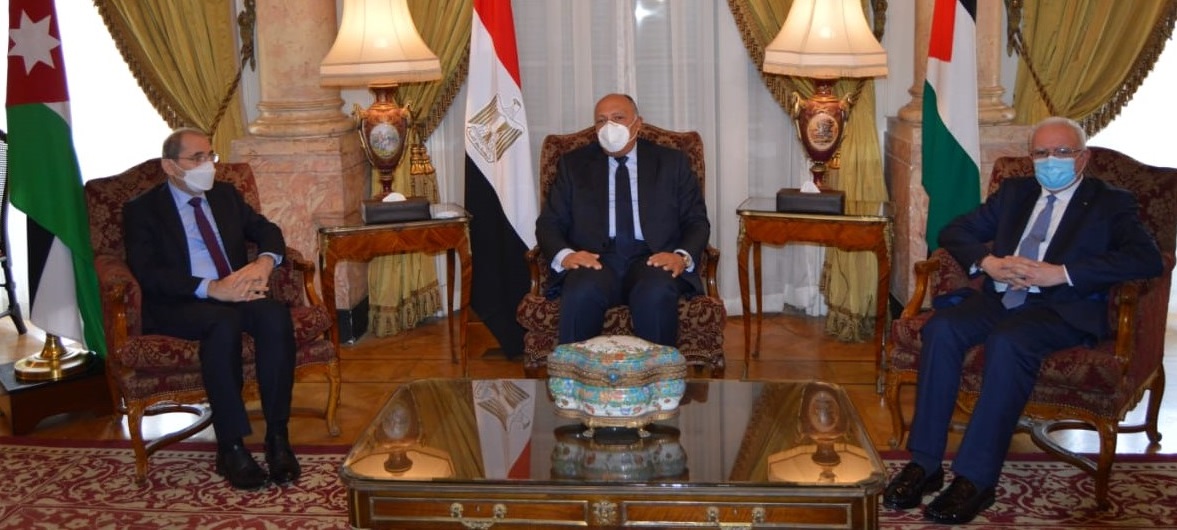 The foreign ministers of Egypt, Jordan and Palestine discussed on Saturday met to discuss ways to push all parties concerned with the Palestinian issue to resume negotiations in the Middle East peace process.
Their meeting in Cairo affirmed that the relevant international legitimacy decisions, the latest of which are Resolution 2,334 and the Arab Peace Initiative, represent the approved references for negotiations which is the only way to bring peace.
This came in a joint statement which followed a consultative meeting hosted by the Egyptian Foreign Minister Sameh Shoukry with his counterparts Jordan's Ayman Safadi, and Palestine's Riyad al-Maliki to coordinate positions and discuss developments related to the Palestinian issue.
The ministers stressed the need to urge Israel to sit down and negotiate in order to reach a final settlement on the basis of the two-state solution.
This would thereby ensure the establishment of an independent, sovereign, and geographically contiguous Palestinian state with East Jerusalem as its capital, finally allowing both states tolive side by side in peace, security and prosperity.
The ministers agreed to continue work on launching an effective move to resume serious and effective negotiations to end the stalemate in the peace process.
The ministers also agreed to intensify steps to mobilize an international position to confront illegal Israeli measures, especially the construction of settlements, demolition of homes and confiscation of lands, warning that these practices violate international law, undermine the two-state solution and the chances of reaching a just and comprehensive peace.
Jerusalem is one of the final issues to be resolved through talks in accordance with international law and international legitimacy decisions.
The ministers stressed that the al-Aqsa Mosque is an exclusive place of worship for Muslims. They also touched on the urgency of ending all divisions amongst Palestinian factions, unifying them in order to protect Palestine's cause.
The ministers agreed to continue the tripartite meetings in order to ensure the highest degree of coordination at this sensitive stage.
Edited translation from Al-Masry Al-Youm