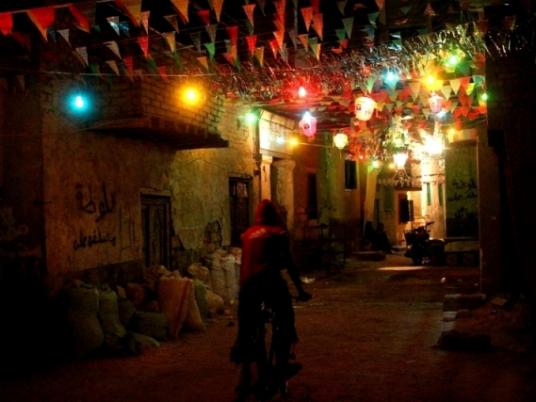 Ramadan is a time of festive celebrations, when rows of fanous lanterns light up the streets and a feeling of togetherness and tolerance takes over. But this year, the holy month is being marred by a deep-running political rift along with economic pressures, consuming this long-awaited joyful time of year.
"Who would want to celebrate while we hear that our young soldiers are losing their lives everyday?" Mohsen Abdel Wahed, a 38-year-old government employee, said. "May Allah protect them and prevent violence from recurring between Egyptians."
The grim political climate has stolen the happiness away from most Egyptians after bloody clashes broke out between Islamist supporters of Mohamed Morsy and his opponents across the country, just a few days before the beginning of Ramadan.
"The whole neighborhood feel depressed by what happened here last week. It is frustrating to see Muslim Egyptians killing each other," Ali Sherby, a 25-year-old teacher who lives in Bein al-Sarayat, where a deadly incident took place near Cairo University on the night of 2 July. Nineteen people died, 120 others were wounded.
Sitting in one of the coffee shops in the main street of the working class neighborhood, Sherby, his friends and groups of strangers were engaged in political chit-chat, sometimes moving into heated debates. No one turned to watch the Ramadan drama being screened on a nearby television set.
For Safaa Mohamed, a 48-year-old Nasr City resident, the unsafe conditions outside meant staying holed up inside.
"My family and I could barely leave our house except to go to work or buy our essential needs. We can't enjoy having iftar or sohour at a nearby restaurant," Mohamed said.
Hundreds of Islamists are still camping in Rabea al-Adaweya square, staging an open-ended sit-in in support of ousted President Morsy and denouncing an alleged "military-coup." Some Morsy backers said that they were willing to die as martyrs if the deposed president was not reinstated.
"It is not safe out there anymore. Every day we hear something new that frightens us, like that Islamists have cut off Salah Salem road or have organized protests and thronged the surrounding streets," Mohamed explained.
The recent bloody incidents between pro- and anti-Morsy protesters in some districts have increased worry in an already nervous nation, and this has consequently taken its toll on Ramadan shopping.
"Business is slow. People are on high alert, as anything could happen these days," said Ibrahim Ezzat, a vendor at a store in City Stars shopping mall, which is "almost empty" in comparison to previous years.
Ezzat attributed the market's deteriorating conditions to several factors. "It is not only the difficult financial circumstances Egyptians have increasingly been suffering from this year. Some have no appetite for celebrating, while others are afraid of going out in the first place."
Zeinab Fathy, a 20-year-old university student, believes that Ramadan is a time for blessings and that people should resort to God in difficult times.
"Let's pray for the future of our country and hope for the best," Fathy said. "[Egyptians] always know how to unite in hard times."