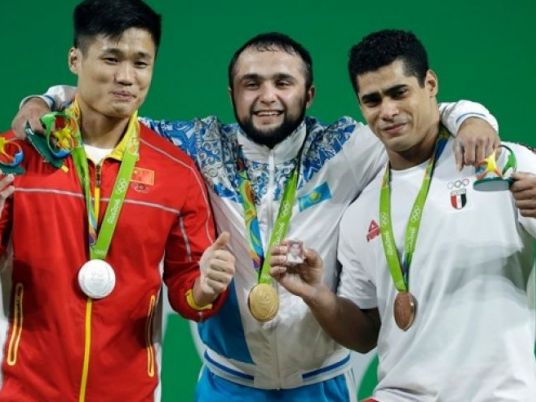 The Egyptian Weightlifting Federation may be facing a hefty fine and ban from international competition for up to two years over a recent violation of the IWF's doping policies.
As initially reported by Reuters, five further Egyptian weightlifters, including three females, tested positive for the use of performance-enhancing drugs in local championships in Alexandria.
"The tests showed traces of banned substances and the five were suspended temporarily until the completion of hearings," Egypt's anti-doping committee chief Osama Ghoneim told Reuters.
"We are currently conducting the hearings and they have been summoned. But some of them failed to attend the investigation [hearings] and we have given them 10 more days to attend or face the consequences."
Ghoneim added that the names of the five and the sanctions would be announced after the hearings. The five would face a four-year ban if found guilty.
Asked about a potential ban under section 12 of the IWF Anti-Doping Policy, which sets out possible punishments for nations who have three or more positives in a year, the body's legal counsel Eva Nyirfa told Reuters in a statement: "In line with Article 14.3 of the WADC (World Anti-Doping Code) the IWF will not make any further comments on the cases until they are closed."
Egypt faces the possibility of being banned from weightlifting for up to two years by the sport's governing body as earlier in December, seven Egyptian lifters – two 20-year-old athletes, and five teenagers, two of whom were 14-year-old girls – tested positive for steroids at the African Youth and Junior Championships in Cairo.
According to IWF rules, if a country had three or more positive tests in a year, it would face a range of sanctions and can be suspended from the sport.
Osama Ghoneim, head of the Egyptian anti-doping committee said that the committee "had not been informed of any sanctions yet but the rules stipulate that the local federation must be sanctioned for three years and fined $250,000 if positive cases appear."
However, the Egyptian anti-doping committee and the Egyptian Weightlifting Federation rejected these charges and blamed it on infected food, claiming they were victims of a "conspiracy."
"There is a conspiracy against the Egyptian Federation behind doping cases," Egypt Weightlifting Federation head Mahmoud Mahgoub told Reuters.
Mahgoub's federation hasn't provided any further evidence or information backing his claims. An internal investigation of the federation has begun.
Doping has long been a pressing issue in weightlifting despite efforts by the IWF to eradicate it. Russia was banned from the 2016 Olympics in Rio de Janeiro for "bringing weightlifting into disrepute" after a series of positive tests.