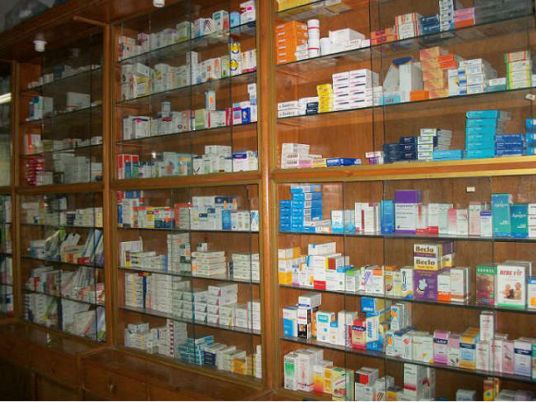 Nahed Ibrahim has scoured Egypt in vain to find a regular supply of medication to help her mother to recover from a stroke she suffered four months ago, since then the 75-year-old has struggled to follow conversations.
"I searched for the medicine everywhere, I traveled to several provinces but I still can't find it. My mother's condition is deteriorating day after day," said Ibrahim as she left, empty-handed, a pharmacy in the industrial town of Helwan, southwest of the capital.
Declines in the value of the Egyptian pound coupled with a shortage of foreign exchange have made it harder for Egyptian pharmaceutical companies to import active ingredients they need to make generic medicines millions of poor Egyptians rely on.
Though medicines are classed as essential goods, putting them high on the priority list at banks deciding how to allocate precious dollar rations, pharmaceutical companies say they still face serious problems that force them to slow or pause production.
A weaker currency has also made it more expensive to import raw materials while the price of finished medicines is fixed by the Health Ministry, forcing manufacturers to stop making some cheap generic medicines to staunch growing financial losses.
The result: people like Ibrahim find the medication they need is missing from pharmacy shelves for weeks at a time or is available at only a handful of outlets around the country.
Egypt has struggled to revive its economy since a 2011 uprising ushered in years of political instability, scaring off foreign investors and tourists — key sources of hard currency. Economic and political discontent has helped to unseat two presidents in the last five years.
Ahmed al-Sayed, a Cairo pharmacist, said he struggles to source basic medicines such as eye drops as well as anti-coagulants and other drugs used to treat heart disease and high blood pressure.
A medical source at the El Salam Oncology Center in Cairo said three important cancer drugs were currently in short supply.
Widespread shortages
Drug shortages are not new to Egypt, but have become so widespread in recent years that the Health Ministry set up a Drug Shortages Directorate (DSD) in 2012 to minimize the impact. It began publishing a monthly table of medicines that were in short supply with suggested generic or branded alternatives.
In December, the ministry's tally showed 189 drugs were in short supply but had available substitutes and a further 43 drugs were in short supply with no substitute.
Walaa Farouk, who heads the DSD, acknowledged that the dollar crisis was exacerbating shortages and said the Health Ministry was looking at raising more prices to encourage production.
Medical professionals, however, said the shortages were more widespread and urgent than the official figures suggest.
"According to data provided by pharmacies, 180 out of 14,000 pharmaceutical drugs registered with the Health Ministry are in short supply with no substitutes," said Osama Rostom, commercial director at EIPICO, a leading manufacturer of generic medicines, and deputy head of the Chamber of Pharmaceutical Industries.
Egypt has introduced a series of measures in recent months aimed at cutting imports of non-essential goods to free up precious foreign currency for priority goods like medicine.
But manufacturers say limits on the amount of dollars companies can deposit in banks and difficulties opening letters of credit have resulted in payment delays, landing them with demurrage and storage costs for goods stuck at port.
"Before the dollar crisis, we used to pay for the cost of raw materials by writing letters of credit … We would then import the materials and pay the rest of the money after the shipment is received," Sabri Teweila, who heads the pharmaceutical manufacturers committee in the Pharmacists Syndicate, told Reuters.
"Now, it's obligatory to pay the entire cost before shipment. The economic crisis negatively affected agreements with foreign countries."
With Egypt importing about 12 billion Egyptian pounds ($1.53 billion) worth of medicines and ingredients, according to Teweila, the crisis has hit the industry hard.
Pricing problem
The problem compounds a long-running price issue that has already caused ongoing shortages of certain medicines.
Though drug-producers say they are willing to keep medicine affordable, the prices of some drugs have not changed since the 1990s, when the dollar was worth between 2.7 and 3.4 pounds.
The official rate is now 7.73 to the dollar and the black market rate is about 8.72. On the eve of the 2011 revolt that ended Hosni Mubarak's 30-year rule, the rate was roughly 5.8.
Since they pay for imports of ingredients in dollars and price the medicines in pounds, producers say their losses are mounting, forcing some to cut output of certain cheap drugs.
A pharmacist who works for an international pharmaceutical company operating in Egypt said it was replacing loss-making drugs with more profitable lines to stay in business.
"We laid off 20 percent of our employees at the beginning of 2015 because our profit went down … We then had to minimize the production of drugs that did not bring in good money," said the pharmacist, who declined to be named as he was not authorized to speak to the media.
The central bank has moved in recent months to ease the dollar shortage that had seen shipments pile up at ports.
The Health Ministry also raised in recent weeks the price of about 30 medicines to encourage manufacturers to make them. But successive governments have been reluctant to raise prices of generic medicines overall, fearing the public backlash.
"Companies have presented requests for tariff changes … the ministry is working on it and we, in fact, raised the prices of some medicines," said the DSD's Farouk.
For Ibrahim, the main carer for her elderly mother, the endless quest for medicine has come to dominate life.
Occasionally, the 32-year-old chances upon a packet of the drug and is charged double the official 16-pound price tag.
"Not everyone does that. Some of them know I'm in need and if they can find me a packet, they don't profit," she said.