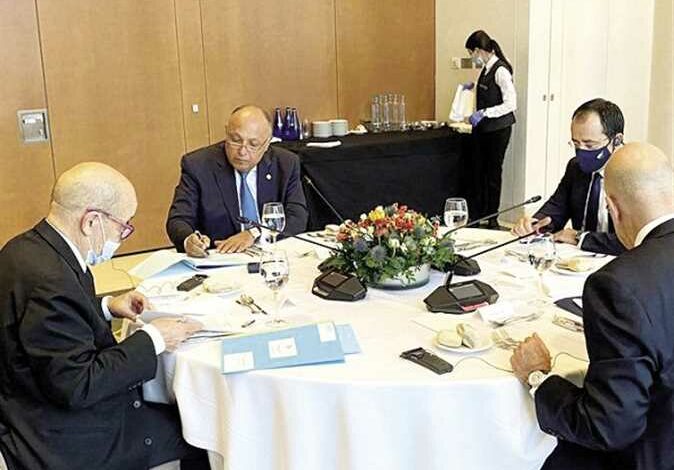 Egyptian Foreign Minister Sameh Shoukry participated on Friday, in a ministerial meeting, which included the foreign ministers of Egypt, Greece, Cyprus and France, which took place in the Greek capital, Athens.
The Egyptian Foreign Ministry spokesman, Ahmed Hafez, explained that the meeting is held in light of the consensus of strategic visions that bring together the four nations to discuss regional and international issues of common concern.  To develop Egypt's relations with the European Union and advance cooperation in energy, climate change and migration were on the top of the list.
He added that the meeting comes within the framework of the continuous close coordination between Egypt, Greece, Cyprus and France. This 3+1 alliance was emerged to also confront security and military challenges after the escalation of Turkish threats in the eastern Mediterranean.
The Greek Foreign Ministry announced that the meeting was devoted to discussing developments in the eastern Mediterranean and Cyprus, in addition to the Libyan crisis.
On October 19, Egypt agreed with Cyprus and Greece on the importance of holding the Libyan elections scheduled for December 24 "in accordance with the road map approved by the Libyans," during a summit attended by President Abdel Fattah al-Sisi, Cyprus President Nicos Anastasiades, and Greek Prime Minister Kyriakos Mitsotakis.
The presidential elections in Libya are scheduled to be held in two rounds, the first starting on December 24, and the second with the parliamentary elections 52 days after the first round.
Libya descended into chaos in the wake of the 2011 NATO-backed uprising that toppled long-time dictator Muammar Gaddafi, who was killed during the events
The oil-rich country has been divided for years between two rival governments, one in the capital, Tripoli, and the other in the eastern part of the country. Each side is supported by foreign powers and various armed groups.