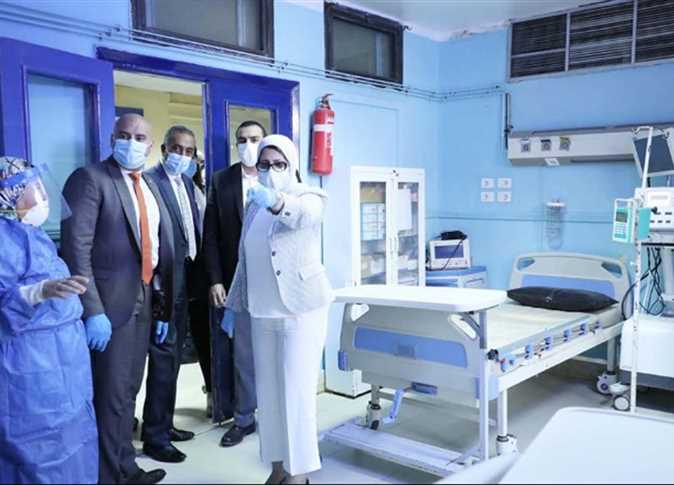 Egypt's Ministry of Health and Population announced that 21 isolation hospitals have been reinstated to treat moderate to severe COVID-19 cases, after these same hospitals had been shut down a few weeks ago.

Mild cases will remain isolated to home and given treatment there, the ministry said.
The Ministry said that mild cases will be isolated at home and treatment would be dispensed to them.
The list of quarantine hospitals includes:
The May 15 Hospital in Cairo

Agouza and Hawamdeya hospitals in Giza

Agamy Hospital in Alexandria

Abu Khalifa Hospital in Ismailia

Tama al-Amdeed Hospital in Daqahlia

Faqous Hospital in Sharqiya

Qaha Hospital on Qalyubiya


Balteem Hospital in Kafr al-Sheikh

al-Bagour Hospital in Monufiya

Kafr al-Dawwar Hospital in Beheira

Nasser General Hospital in Beni Suef

Fayoum Health Insurance Hospital in Fayoum

Malawi Hospital in Minya

Abu Teeg Hospital in Assiut

al-Helal for Health Insurance Hospital in Sohag

al-Odaysat Hospital in Luxor

al-Sadaqa Hospital in Aswan

al-Negila Hospital in Matrouh

al-Kharga Hospital in New Valley

Hurghada Fever Hospital in the Red Sea
The Ministry of Health announced Tuesday that 1,109 people recovered from the coronavirus and have been discharged from hospitals, bringing the total of recoverees to 54,888 cases.
Health Ministry Spokesperson Khaled Megahed stated that 24 cases died on Tuesday, and 168 new cases tested positive, bringing the total number of registered cases so far in Egypt to 95,834 with 5,059 deaths.
Concerns over a potential second wave of the coronavirus in Egypt went viral on Twitter on Monday, with "the second wave" taking center stage as one of the most tweeted phrases.
Most of the tweets asked everyone to take the necessary precautions against the virus, as others warned that a second wave had already begun globally.
Twitter user Nada Zayed wrote: "Doctors and people in hospitals warned of the second wave of the pandemic, and I really hope people will return, at least, to wearing facemasks again, because people really ignore corona and returned to their normal lives!!"
Minister of Health Hala Zayed on Sunday implored all citizens to continue abiding by preventive measures such as social distancing to help curb the coronavirus outbreak.
She recommended people avoid family gatherings, keep a distance of no less than one meter in public, wear masks properly and safely dispose of them.
Other recommendations she listed are to avoid handshakes especially in closed spaces, and carefully wash hands for over 20 seconds and/or use rubbing alcohol.