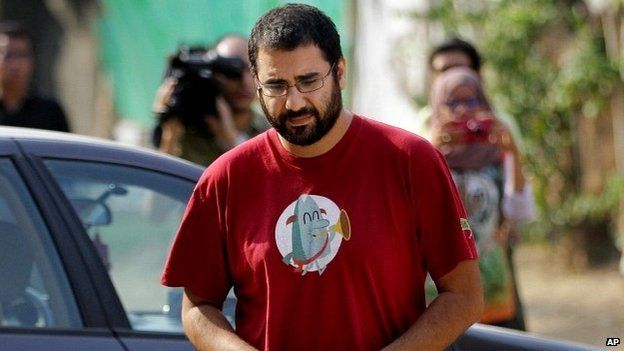 The Egyptian Foreign Ministry stressed on Monday that it is absolutely not appropriate to comment in any way on, or refer to, rulings issued by the judiciary in the implementation of laws that are based on irrefutable, conclusive evidence within the framework of fair, impartial and an independent judicial process.
This came during statements by the Foreign Ministry spokesman, Ahmed Hafez, in response to the statements of the US State Department spokesman, Ned Price, when  he expressed his disappointment with the Egyptian judicial rulings issued on Monday.
Hafez stressed that it is not permissible to address such judicial issues in any political frameworks, or link them to the course of relations between the two countries, because of the unjustified complications that this entails.
The State Security Emergency Misdemeanor Court, held in the Fifth Settlement, sentenced the accused, Alaa Abdel-Fattah, to 5 years in prison, and 4 years each to the lawyer, Mohamed al-Baqer, and Mohamed Oxygen, on charges of joining a terrorist group.
The prosecution charged the defendants with crimes of spreading false news and joining a group established in violation of the provisions of the law; the purpose of which is to call for the suspension of the provisions of the constitution and laws and to prevent state institutions and public authorities from carrying out their work.
Price said on Monday that "we're disappointed by the verdicts issued today by Egypt's State Security Court in the trials of Alaa Abdel Fattah, Mohamed El-Baqer, and Mohammed "Oxygen" Ibrahim. Journalists, human rights defenders, and others seeking to peacefully exercise their freedom of expression should be able to do so without facing criminal penalties, intimidation, harassment, or any other form of reprisal."
"We have emphasized to the Egyptian government that our bilateral relationship will be strengthened by improving respect for human rights, and we will continue to engage the Egyptian government to promote freedom of expression and other universal human rights," he added.
"We have also made very clear to the Egyptian government specific concerns we have in various cases. I'm not in a position to read out those private conversations," Price said.
"In just about every senior-level engagement with the Egyptian government, human rights is a topic of discussion. That was certainly the case when Secretary Blinken met with President Sisi. It was certainly the case when President Biden spoke to President Sisi. It was certainly the case when Secretary Blinken has spoken to his Egyptian counterpart," he added.