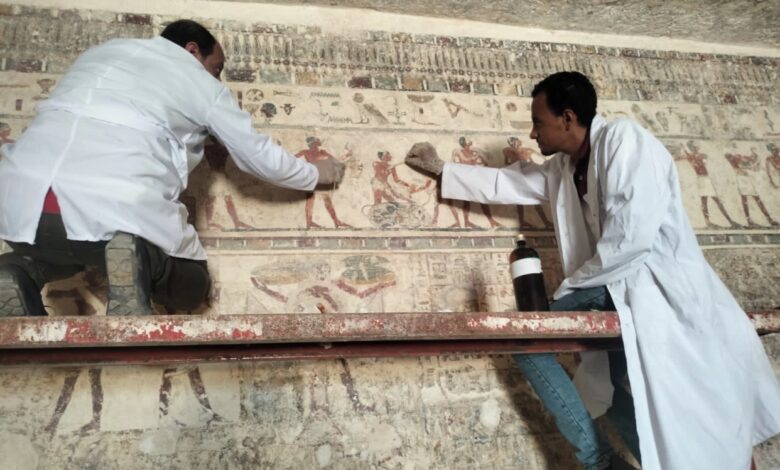 A team of restorers and archaeologists from the Supreme Council of Antiquities began restoring tombs  #29 and 33 in the Beni Hasan antiquities area in Minya Governorate, Upper Egypt, for the second consecutive season.
The Secretary-General of the Supreme Council of Antiquities, Mostafa Waziri, said the Bani Hasan area in particular is of great archaeological and historical importance, as it includes a group of tombs featuring scenes of daily life and religious beliefs, serving to record what life was like for ancient Egyptians back then.
The head of the Central Administration of Antiquities of Central Egypt, Adel Okasha, said that these tombs date back to the era of the 11th dynasty.
Restoration work began in the first season in 2021-2022, and included photographic recording of the state of the two tombs inside and outside before, after, and during the restoration process.
In addition to manual and mechanical cleaning works to remove dirt from the walls, chemical cleaning works to remove and extract salts, and the isolation and strengthening phase of the layers.
Okasha pointed out that the team began the work of the second season of restoration and development to completely finish the cleaning and insulation work in preparation for their opening and placing them among the tourist destinations that can be visited in Minya Governorate.
The tombs feature detailed scenes of daily life and some crafts such as hunting, fishing and agriculture, in addition depictions of sports such as wrestling and various religious scenes.