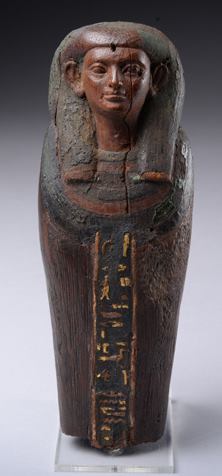 The Egyptian embassy in London retrieved a wooden Ushabti figurine that dates back to the Middle Kingdom period of Ancient Egypt (2050 BC-1800 BC).
The director general of the Retrieved Antiquities Department of the Antiquities Ministry, Shaaban Abdel Gawad, said in a statement today that the figurine was stolen from an Aswan archeological site in 2013 and smuggled to London illegally.
Gawad added that the Ushabti will return to Egypt soon.
He explained that museum curator at the British Museum found the figurine with a Briton, so he informed the Egyptian Antiquities Ministry, and it was handed over to the Egyptian Embassy in London.
Gawad said that the figurine was part of the findings of Spanish mission working in Aswan in the period from 2009 until 2013, and has a height of about 16.5 cm and gilded inscriptions.