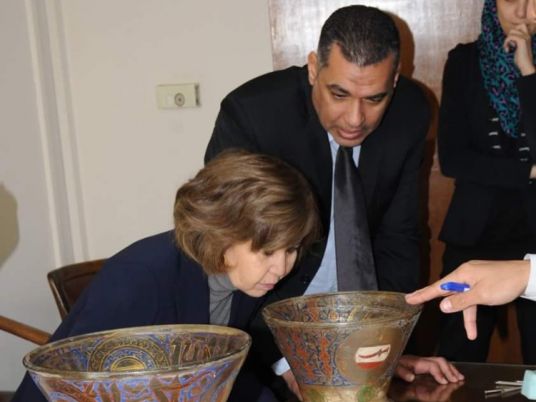 Egypt received from the UAE on Thursday two Islamic lamps that were stolen and smuggled to the Gulf country in 2015.
The lamps were stolen from the store gallery of the National Museum of Egyptian Civilization (NMEC) in 2015, along with two other lamps and were replaced with replicas, said Shaaban Abdel Gawad, General Supervisor of the Antiquities Repatriation Department at the Ministry of Antiques.
According to Abdel Gawad, one of the two recovered lamps belonged to Prince Suleiman Agha Al-Selehdar in the 19th Century, while the other belonged to the Mamluk Sultan Hassan (1334–1361).
A third stolen lamp that was recovered from the UK in 2015 belonged to the Mamluk Sultan Barquq in the 14th Century.
The fourth lamp is still missing, but the department is working hard to discover its whereabouts, a statement by the Antiquities Ministry said on Monday.