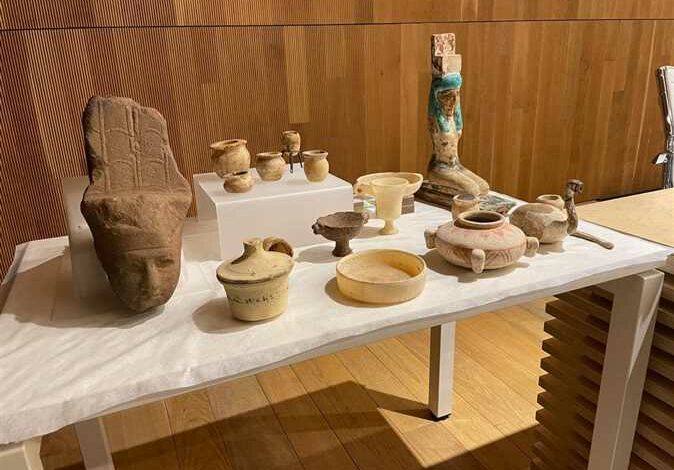 German authorities handed over to the Egyptian ambassador to Berlin, Khaled Galal, over 40 artifacts that were smuggled from Egypt and seized by the Frankfurt Airport authorities.
The cultural officer for the Middle East and Africa region at the German Foreign Ministry handed the artifacts to the Egyptian embassy in Berlin.
Galal told Middle East News Agency in Berlin that the German authorities contacted the Egyptian embassy after seizing more than 40 Egyptian artifacts at Frankfurt Airport, which were smuggled from Thailand on its way to the UK.
The Egyptian embassy moved immediately and communicated with the concerned authorities, he said, as per the agreement signed by Egypt in 1970 regarding the smuggled Egyptian antiquities.
This is the fifth time that Egypt recently recovers Egyptian artifacts that were smuggled to Germany, Galal noted.

The cultural official at the German Foreign Ministry expressed his happiness at returning the smuggled items to the Egyptian government, considering it a great achievement for the German Foreign Ministry.
He added that this achievement is the result of cooperation between the foreign ministries of the two countries, pointing out that his country pays special attention to its cultural relations with Egypt.