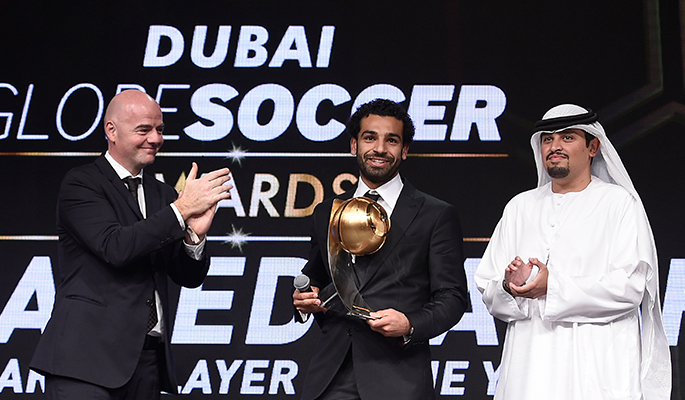 Egypt and A.S. Roma star Mohamed Salah on Tuesday won the Best Arab Player of the Year award of Globe Soccer international football festival in Dubai, UAE.
Salah came ahead of Riad Mehrez, the Leicester City player, and Medhi Benatia, the Juventus player.
End of the 2nd session 'Players' with @mustafa_agha, @javierzanetti , @setoo9 and @22mosalah #disc11 #livedisc #dubaisc #globesoccer pic.twitter.com/SJxuf9Vaff

— Globe Soccer Awards (@Globe_Soccer) December 28, 2016
Cristiano Ronaldo won the Best Player of the Year award; Real Madrid C.F. won the Best Club award; and its president Florentino Pérez won the Best Club President; Fernando Santos, coach of Portugal, won the Best Coach of the Year award.
Salah scored 14 goals with Roma last season and 9 goals this season. He led Egypt to qualify for the finals of the African Cup of Nations, and helped it head its group in the World Cup qualifiers.
The Globe Soccer awards are organized by the Globe Soccer Foundation for European football every year, and are considered among the most prominent and famous in the world.