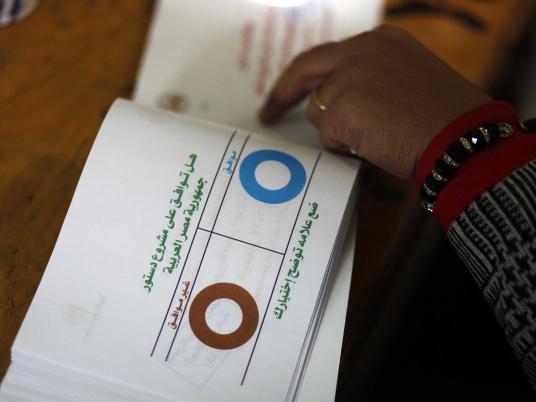 Egypt's High Judicial Elections Commission announced the final results of the referendum on the new constitution, with the official "yes" vote amounting to 63.8 percent.
Samir Abul Maati, head of the HJEC, said in a conference late Tuesday that out of 51,919,067 eligible voters, 17,058,317 cast their ballots, equaling a turnout of 32.9 percent.
A total of 10,693,911 voted in favor of the new constitution, while 661,101 or 36.2 percent said "no." Invalid ballots totaled 303,395.
The draft constitution was put to a referendum over two stages, with 10 governorates voting on December 15 and the remaining 17 voting a week later.
The final results were close to preliminary tabulations, which showed an approval rate of 64 percent.
The commission says it has thoroughly reviewed all the complaints it received on violations, adding that the referendum was held under full judicial supervision at all polling stations since the electoral system prohibits non-judicial officials from overseeing the process.
The commission also allowed media personnel into polling stations by showing their press cards or other credentials, and observers were allowed to use the licenses issued them for the presidential election.
Abul Maati said that the late opening of some polling stations was made up for through the extension of voting hours, adding that results from the few polling stations that closed before the set time of 11 pm were invalidated.
On Monday, the Cairo Administrative Court said it would review around 50 lawsuits calling for the cancellation of the constitutional referendum results. The lawsuits allege that the voting process was plagued by violations including inadequate judicial oversight and overcrowded polling stations, which prevented thousands of voters from casting their ballots.
The suits further claim that holding the referendum over two days was also unlawful, as it is in violation of the March 2011 Constitutional Declaration and Law No. 46 of 2011 on exercising political rights, which stipulates that the referendum should be held in one round with results announced three days later.
The Islamist-backed constitution has widened the rift between political forces, with opponents arguing that the assembly which drafted is unrepresentative and that the document itself is riddled with vague wording while failing to safeguard rights and freedoms.